Iron Maiden Releasing EN VIVO! Blu-Ray, 2DVD and Soundtrack
Darlene Nikki
Misc
3 minute read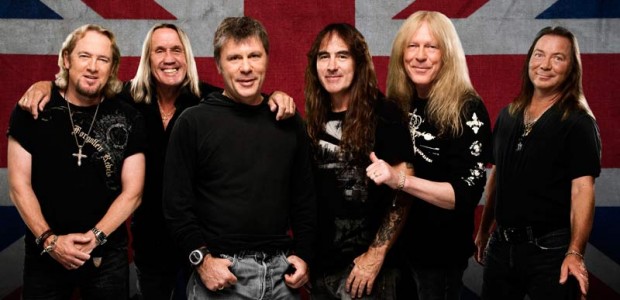 Iron Maiden, via EMI Music Canada, will release a new Blu-Ray, 2-DVD set, and double soundtrack album, entitled "EN VIVO!"
EN VIVO! was filmed on April 10, 2011 in front of over 50,000 fans at the Estadio Nacional in Santiago, Chile during Iron Maiden's Round The World In 66 Days leg of The Final Frontier World Tour. Maiden's Final Frontier World Tour 2010-11 saw the band circumnavigate the planet for the third time in their customized Boeing 757, Ed Force One, piloted by lead singer Bruce Dickinson, and playing 98 shows in 36 countries to over 2 million fans.
Bass player and founding member Steve Harris comments,
"For The Final Frontier Tour it was really important to me that we filmed in South America as we're always so overwhelmed by the fans' reaction when we go to that part of the world and I wanted to reflect that in the filming. After much consideration we chose the Santiago show as we felt it was one of our best performances of the entire Tour and to play at the prestigious Estadio Nacional was a landmark moment for us. For reasons known to our fans,  it took a long time before we got to play our first show in Chile, and once we did get to play a show, the response was so phenomenal we just had to keep coming back and it's got better and better each time!
This show also features the gigantic new Eddie. He wasn't due to make his appearance until our European leg of the tour later in 2011, but we managed to transport him across the sea in a special huge container just in time for the latter end of the South American dates so it was great we were able to immortalize him for the DVD as he really has to be seen to be believed!"
No, Eddie isn't a person. He is Iron Maiden's mascot—a perennial fixture of the group's artwork, appearing in all of their album covers, most of their singles, and in their merchandise.
The concert, filmed digitally using 22 HD cameras and an octocam (a flying camera that captures aerial crowd scenes), was recorded in both stereo and 5.1 audio and mixed by Maiden's longstanding producer Kevin "Caveman" Shirley.
DVD Disc Two is a bonus disc containing an 88-minute documentary, BEHIND THE BEAST. It's an in-house "home movie" that gives insights to their fans as to the inner workings of how  an Iron Maiden tour is put together, and what goes on behind the scenes at a show. It reveals the day to day life and complex tasks of the Maiden Killer Krew and the other characters behind the scenes. Plus, it includes interviews with the Iron Maiden crew, it interspersing anecdotes from the band and their fans, and footage of the live show.
In addition to the Blu-Ray, the 2DVD will initially be available as a Limited Edition double DVD in a Collectors Steel book case and Double Vinyl Picture Disc. As well as a traditional 2CD Soundtrack album, EN VIVO! will also be available as a Digital Download CD soundtrack album and Digital Download Video.
This mega release drops on March 27.
Check out the entire tracklisting.
Tracklisting:
DVD DISC ONE: "LIVE AT ESTADIO NACIONAL, SANTIAGO" (approximate running time: 120 minutes)
1. Satellite 15
2. The Final Frontier
3. El Dorado
4. 2 Minutes To Midnight
5. The Talisman
6. Coming Home
7. Dance Of Death
8. The Trooper
9. The Wicker Man
10. Blood Brothers
11. When The Wild Wind Blows
12. The Evil That Men Do
13. Fear Of The Dark
14. Iron Maiden
15. The Number Of The Beast
16. Hallowed Be Thy Name
17. Running Free
 
BONUS DISC - DVD DISC TWO: "BEHIND THE BEAST" (approximate running time: 102 minutes)
1. Behind The Beast documentary
2. Satellite 15…The Final Frontier promo video (director's cut)
3. The Making of Satellite 15…The Final Frontier promo
4. The Final Frontier World Tour Show Intro