Mastodon Talk Change, Feist And Barney & Friends [Interview]
Sheila
Misc
2 minute read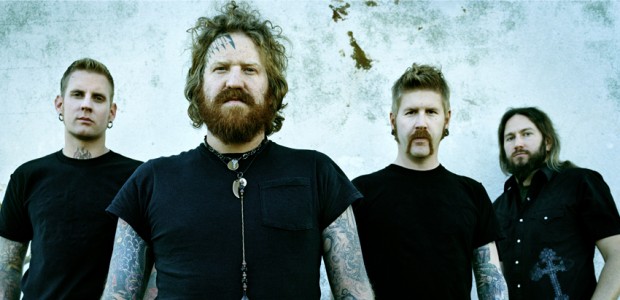 The Hunter Heritage Tour featuring Mastodon, Opeth, and Ghost made its way to Montreal, and prior to the show, we had the opportunity to chat with Mastodon bassist, Troy Sanders. We spoke about the changes they made to their writing process, how they teamed up with Feist for a special Record Store Day release, and the similarities between their band and the touring cast of Barney and Friends. Yes, you read that right.
We've included some highlights from our chat below and the full video interview can be viewed just after.
What has been the reaction to the newer material on this tour?
So far all the reaction to the new stuff, all of The Hunter material has been very positive. I think the songs that made that record, it's nice that we play them live. It's more like short bursts, you know every song is  3-4 minutes roughly, and it's just got its own compacted energy. And following up from Crack The Sky album, it's got more immediacy it just a.. you know that little fire we call rock and roll. The energy from the stage has really gone over well to the crowd and then from them back to us creating a wonderful circle of energy, so, so far so good.
How did you guys end up hanging out with Barney?
It was in Indianapolis, Indiana. We arrived at the Egyptian Ballroom, and there's two venues in this massive building, and the family show, Barney and Friends was performing in the daytime, and then we were in the next venue over. We were doing our soundcheck and got calls over the radio that "you need to cut out the soundcheck, you're scaring all of the kids and families in the Barney show next door", so we had to postpone our soundcheck. Afterwards, during our last song "Creature Lives", the entire cast and crew of Barney came on stage to jammed with us. I mean, we're into dinosaurs, so it was the perfect combination. It was funny, we wound up hanging with those guys and girls up until our bus calls, and it was quite funny how our touring lives were very similar. They were going to Chicago that night and we were going to Detroit or something, and they were living off of deli trays and so were we. They just played a show, we just played a show. It was like wow, there were similarities that I had never really thought about before.
Check out our full interview with Troy Sanders of Mastodon below, and while you're at it, don't forget to subscribe to our YouTube channel for more exclusive interviews.