2010 Musician Halloween Costumes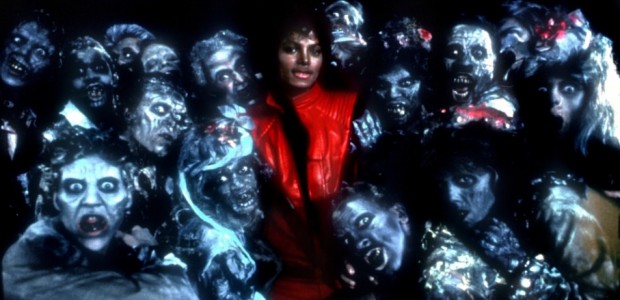 Halloween is quickly approaching and if you're still scrambling to figure out what you should dress up like this year, we're here to help. Given our site's nature, we're only going to list musicians. We've provided pictures and ranked the costumes in terms of complexity. Here are our 2010 musician Halloween costume picks:
NOTE: If you're looking for 2011 ideas, check out our 2011 musician halloween costumes article.
Michael Jackson's Thriller Costume
Complexity: 5/5
Last year was primetime for Michael Jackson costumes but the king of pop will never go out of style. We recommend doing the old school Thriller look.

What you need: A red vinyl / plastic jacket and matching pants (make sure the pants are slightly too short), one fake thin mustache (please don't grow one), one glittery glove, a black fedora, white socks and black shoes. Use black tape or cut out some black clothing to create a V on the back and front of the jacket. Roll up those sleeves. If you really want to go all out, apply the zombie make up.
Antoine Dodson's Bed Intruder
Complexity: 3/5
The hairstylist turned auto-tune musician is a hot commodity right and dressing up as the eccentric Antoine Dodson will surely get some laughs. Be warned, we're expecting many people to dress up like Dodson this year.

What you need: An afro wig, a red bandana, a black sleeveless shirt (wife-beater) and a rolled up newspaper. Quoting him is optional.
Justin Bieber's Douchebag Look
Complexity: 2/5
The YouTuber turned teen star is another hot pick this year. This will work great if you're not a teenager and are dressing up as the pop singer for comedic reasons.

What you need: Justin Bieber is an easy one to pull off, even if you're a woman. Simply comb your hair down and over one eye (or use a wig). Put on a baseball cap backwards and pop your collar if you have one. Bonus points if you can get your little nieces / cousins to follow you around and scream.
Lady Gaga's meat, Bubble & Kermit Dress
Complexity: 5/5

Dressing up as Lady Gaga is a fun one since there are so many different outfits that you can use.

Option #1: The meat suit. Head over to your local dollar store and buy a bunch of plastic fake meat (check the dog toys section). Tie them together and wear them as a dress. You'll also need a pink wig to complete the look.

Option #2: The bubble suit. See option #1 but use plastic bubbles instead. We highly recommend that you wear something on the inside, preferably white clothing, unless you don't mind getting arrested. Don't forget to buy a little bottle of bubbles and blow them as you walk around.

Option #3: Again, same as #1 except this time, you're substituting meat for small Kermit the Frog plush toys. This option works extremely well if you have a female friend who is dressing up as our next pick.
Katy Perry's Elmo Costume
Complexity: 2/5
The pop rock singer is back in the news following her new record and recent Sesame Street controversy. Jump on the bandwagon by dressing up as her.

What you need: A red t-shirt (you're going to have to draw elmo's face on it and cut the top part for additional cleavage), a black wig (paint the ends green and purple), fake glasses and the best pushup bra money can buy.
Joaquin Phoenix is Homeless look
Complexity: 3/5
Alright, we were fooled. Joaquin dressed up like a crazy man on Letterman last year but it was all a ruse as he was working on a documentary for his new film. He recently came clean and told the world about his prank. Well, kudus to him, let's show him some love.
What you need: A blue sweater, a red shirt, a beard (or faux-beard), sunglasses. Wear the red shirt and put the blue sweater over it. To further add to the effect, be very incomprehensible when people speak to you.
That's it for this year, have a great Halloween! Oh and if you need some music to set the mood, check out our picks for the best Halloween music.