Broken Social Scene at Metropolis Review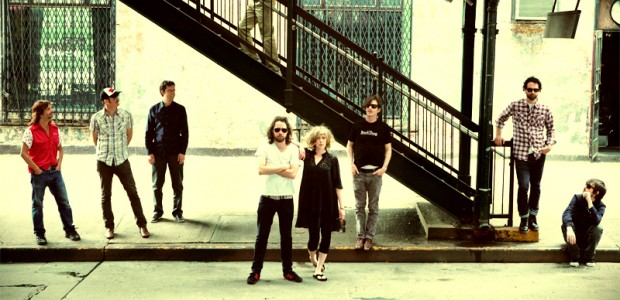 The night began with Broken Social Scene's frontman, Kevin Drew, taking stage and stating "Montreal, We're here for you". It didn't mean much at the time but it would soon become apparent that his words were true and from the heart.
One never quite knows what to expect from BSS with members and guests coming and going throughout the night. There are solos, there are duets, and there are times where well over a dozen members are playing in harmony. Everyone has their moment to shine and Kevin Drew makes sure that the talent is always properly credited.
Frequent guests Emily Haines (Metric) and Leslie Feist (Feist) were unfortunetely absent but that didn't take away from BSS's visceral performance.
After playing "Texico", Kevin introduced "A very pregnant Miss Amy Millan" who came on stage to sing "7/4". She didn't let her pregnancy slow her down as she jumped around on stage and rocked it out as she's always done.

Soon after, Kevin apologized for not taking his boots off when he entered the venue. He took a towel and water bottle and wiped them clean. What can we say, that man has manners.

The women were brought back on stage for the melodic "Anthem For A Seventeen Year Old". The words "Park That Car, Drop That Phone, Sleep on the floor, Dream About Me" echoed through the muted crowd who were letting the music move their bodies.
On his way to Metropolis, Kevin spotted a sign at another venue (Club Soda) that wrote "Rage Against The Machine Tribute Band". It inspired him to get the crowd to sing along to an abridged acoustic take of Killing In the Name.

During the encore (the band never actually left), Montreal-born Andy Kim joined BSS for a special rendition of "How'd We Ever Get This Way". While Andy has been playing since the 60s, Kevin Drew advertised this as Andy Kim's first performance in his hometown. After a lengthy two hours and fifteen minutes, they finished off their set with "It's All Gonna Break". Kevin wanted more: "I don't wanna leave" proclaimed the frontman and he played "one last quick one" which came in the form of "Major Label Debut". The rest of BSS came back on stage to help the polite singer finish the final track.

Broken Social Scene has a few more tour dates lined up in 2011 and we highly recommend that you check them out before they go on a much deserved break. Check out the setlist for the Broken Social Scene's Metropolis show below.