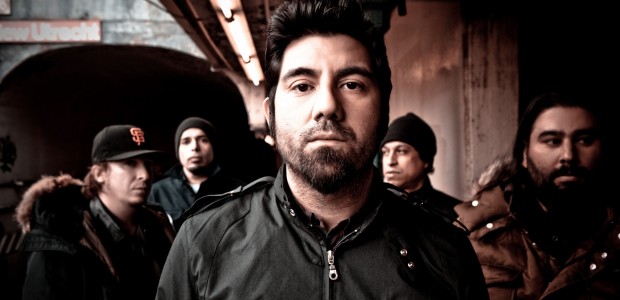 Some bands are unstoppable. Cue Deftones. When devastation struck, and their bassist Chi Cheng was critically injured in a car accident, they pulled together to support him and each other. When they recorded Eros and decided that the album didn't represent them personally or musically, they started over. What they ended up with instead was Diamond Eyes, a celebration of Chi that also proved to be a chart topping success, dubbed iTunes' Rock Album of the Year in 2010. Deftones has managed to stay true to themselves while continuing to grow and evolve musically.
This past Wednesday, Deftones played to a sold out crowd in Montreal. Before they hit the stage, we were invited backstage to chat with Deftones drummer Abe Cunningham and keyboardist/DJ Frank Delgado on the one-year anniversary of the release of Diamond Eyes.
The fan reception to the album has been good, both in terms of record sales and for their live show.
"The shows have been amazing. We're having fun. We just got off a string of sold out dates, so it's a good time for us right now."
During the interview, Frank and Abe talked openly about coping with Chi's condition, and moving forward:
"Making this Diamond Eyes record was pivotal, dude. 'Cause that was like life changing to the situation that happened with Chi for us to even attempt to keep on and to take a chance on ourselves. I think most bands don't have those types of coping skills and friends […]"
"And it's a healing thing too, you know […] it's sort of a celebration of him. […] It really kicked our ass in a lot of ways […]"
But in the end, the guys still love what they do. And so do we.
Check out the video below for the complete interview, which explains the origin of Diamond Eyes, Abe "Tweeting," and much more. For pictures of the show at Metropolis, visit our Deftones photo gallery. For up to date information about Chi Cheng, visit https://www.oneloveforchi.com/.