Montreal's Heavy MTL 2012 Festival Review
Sheila
Misc
5 minute read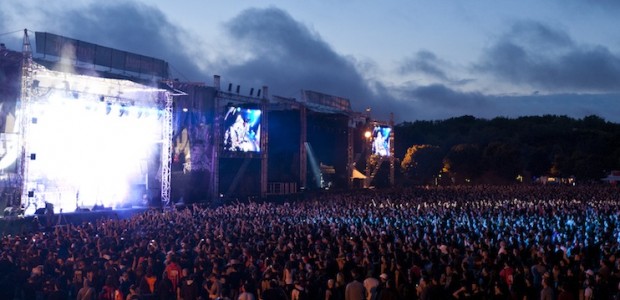 When the initial lineup for the 2012 edition of HeavyMTL was announced, the metal fans of Montreal rejoiced. Truthfully, how could they not? System of a Down, Deftones, Marilyn Manson, Lamb Of God, and Slipknot were just a few of the bands set to appear.
Unfortunately for Lamb of God fans, the band had to pull out of HeavyMTL because of frontman Randy Blythe's incarceration in the Czech Republic steaming from accusations of manslaughter--he has since been released, and is back in the U.S. This also forced Dethklok to cancel due to scheduling issues, as they were supposed to be on tour with Lamb of God during this time. Even with the cancelations, organizers at HeavyMTL and HeavyTO were quick to react and filled those gaps in the schedule; In Flames took over Lamb of God's spot and The Dillinger Escape Plan filled in for Dethklok.
And so it begins
It was never a question of if the rain would come, instead everyone at HeavyMTL were wondering when it would come. Even though the skies were overcast from the start, they only opened up in the late afternoon, and even when it did, the fans took it in stride. Those who arrived early had their choice of bands to watch; with three stages set up, there was live music throughout the day featuring several talented acts, including many Canadian ones.
Killswitch Engage were one of the bands that got things started up on the main stages just when the rain began to fall. With their original singer Jesse Leach rejoining the band earlier this year, they played their expected hits, but also played some new tracks, including No End In Sight. Once Killswitch Engage played their final note, one could not help but notice that quite a few fans left the main stage area and headed over to the third stage to watch Origin instead of the not-as-heavy Deftones on the main. (Don't forget to watch our Deftones interview from their previous Montreal concert)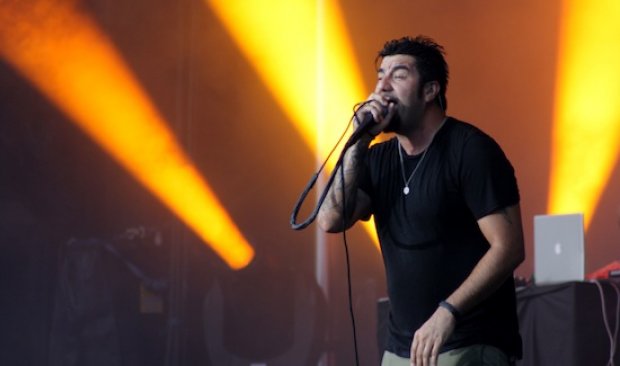 This by no means meant that Deftones played to a handful of people; in fact, even through the rain, many fans toughed it out and enjoyed their set. Lead singer Chino Moreno didn't let a persistent pre-show nose bleed slow him down. Playing hits like Diamond Eyes and Change (In The House Flies), Deftones also performed a new song titled Rosemary. Midway through their set, the skies cleared up and the ponchos joined the empty beer cups on the ground. While their set may not have been as energetic as some of their counterparts, Deftones still delivered.
Clutching a brass knuckle microphone, lead singer of Five Finger Death Punch Ivan Moody did not shy away from taking control over the crowd. One could not help but notice the increase in crowd energy and participation from the previous act. Giving fans a few lessons on concert etiquette, Moody encouraged fans to take care of one another, but reminded them that this wasn't an Air Supply concert and that they should be moving. Truthfully, the midset drum solo was a bit much considering the hour-long set, but props to them for bringing the energy level back up in time for the headliners.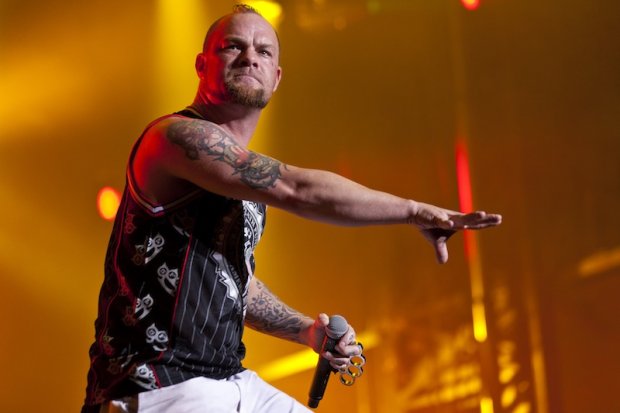 Photo credit - Tim Snow
While 5FDP were on stage, Faceless played the third stage (aka The Apocalypse Stage); once their set was over, fans filtered away from there and made their way back to the main stage for System Of A Down. A few stragglers stayed behind for Battlecross, who had the tough task of playing against SOAD.
With a giant white sheet covering the stage with the words System of a Down written across it, the crowd went wild when they heard the first few notes from the stage. It was clear -- the 22,000+ Montreal metal fans were ready for the Day One headliners. Playing a 23 song set that included their biggest hits, it still wasn't enough for the Montreal fans. While fans may have been hoping for some newer material, there was no such luck.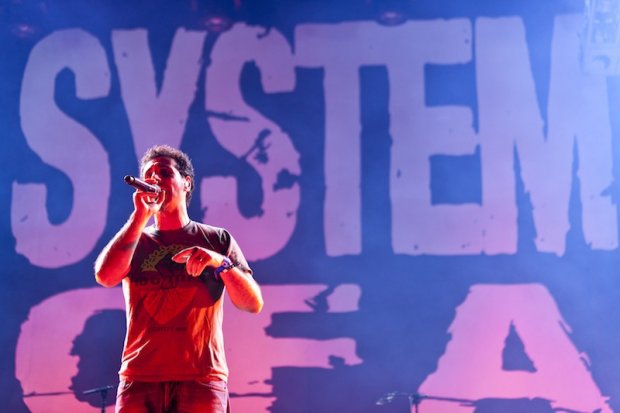 Photo credit - Tim Snow
One of the only complaints from their set was the sound; Serj Tankian's distinct voice was difficult to hear at times. During the hits like Chop Suey!, Toxicity, and BYOB to name a few, the crowd took over the reins and overpowered the sound system even more while increasing the energy just when you didn't think it was possible.
Even with the rain, the skies cleared up in time for most of the headliners and cooled things down for the rest of the evening. Did the rain stay away for Day Two of HeavyMTL which featured bands like Slipknot, Marilyn Manson, In Flames, Trivium and Dillinger Escape Plan? Continue on to page two to find out.
*header photo credit to Tim Snow
Thankfully blue skies awaited fans arriving to Parc Jean Drapeau for day two of HeavyMTL.
Dillinger Escape Plan was one of the bands added to the lineup as last minute replacement for Dethklok. Their high energy stage presence was not to be missed. From lead singer Greg Puciato climbing up the side of the stage, to guitarist Ben Weinman jumping into the crowd for a little crowd surfing while playing, there was always something to catch your attention.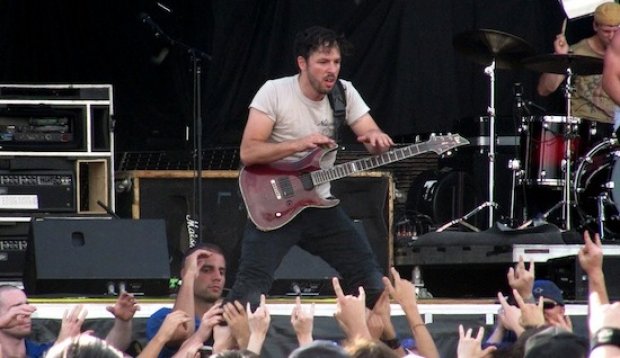 Another band that needed to be replaced in the lineup was Lamb of God; cue In Flames. Lead singer Anders Fridén encouraged fans to get in the air, not by jumping, but instead crowd surfing. Once he set out that request, fans from every part of the crowd were chucked up in the air and carried to the front of the stage by their fellow concert goers. During their set, a light rain fell, but thankfully, it didn't stay around for long. Musically, In Flames was great, but Fridén's interaction with the crowd was even better when compared to his counterparts. Not only taking the time to chat with the fans in front of the stage his band was playing on, but also to the fans who were waiting for Marilyn Manson on the next stage.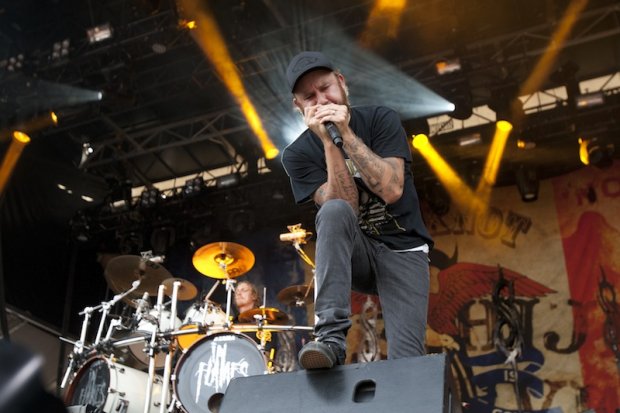 Photo credit - Tim Snow
As far as Manson's set goes, it was everything you'd expect, but for a festival like this, we were hoping for more. The hits Sweet Dreams, Dope Show, and Personal Jesus were played with Manson even singing from atop a large pedestal. During their set, Manson shared these words of wisdom, "Whatever kills you, makes you dead". Deep. To cap off their set, they played The Beautiful People, and with that, it was time for the headliners.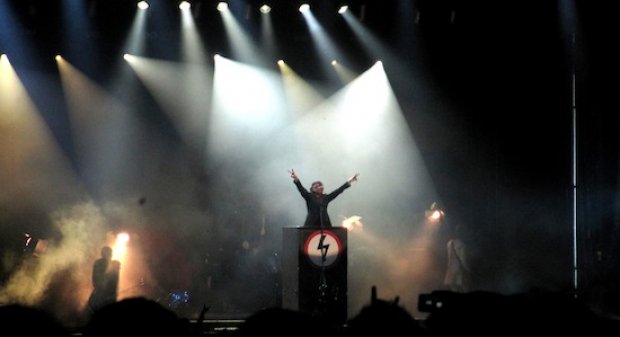 The headliners for Day 2 -- Slipknot -- proved exactly why they were chosen to close out the show. The masked metal heads are winding down their most recent touring cycle which will be capped off next week during Knotfest; a festival that the band created. Playing an action packed 90 minute set which included levitating garbage can drums (which were played with a baseball bat at times!), the energy coming off the stage was immense. Towards the end of their set, they slowed things down performing Snuff followed by Duality which was dedicated to the late Paul Gray.
Photo credit - Tim Snow
Even with the rain and humidity, metal fans of Montreal came out in droves. It'll be tough to top this years lineup, but we're sure the HeavyMTL festival organizers are up for the challenge. See you at Heavy MTL2013!
*header photo credit to Tim Snow