Kittie Announce 2012 Tour Dates
Sheila
Misc
2 minute read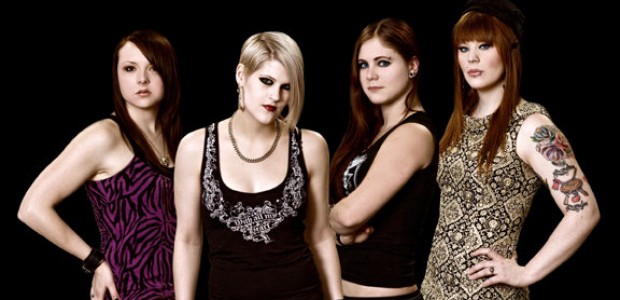 Canadian rockers Kittie, have announced their extensive touring plans for next year. They'll be starting off the year in February playing two shows close to home in London and Toronto, Ontario; then they'll head to Australia to play a handful of dates as part of the Soundwave Music Festival. Once they return to North America, they'll hit the road hard!
Starting in Poughkeepsie, NY, they hit close to 50 different cities across the US and Canada before ending in Providence, RI. You can find all of their tour dates below, and you can purchase tickets here.
If you plan on attending any of these shows, don't forget to share your concert pictures with the world on UpVenue!
Kitte 2012 Tour
February 17, 2012 - London, ONT Music Hall
February 18, 2012 - Toronto, ONT Opera House
February 25, 2012 - Brisbane, AUS RNA Showgrounds
February 26, 2012 - Sydney, AUS Olympic Park
March 2, 2012 - Melbourne, AUS Showgrounds
March 3, 2012 - Adelaide, AUS Bonython Park
March 5, 2012 - Perth, AUS Claremont Showgrounds
April 4, 2012 - Poughkeepsie, NY The Loft
April 11, 2012 - Albany, NY Bogie's
April 12, 2012 - Reading, PA Reverb
April 13, 2012 - Rochester, NY Montage Music Hall
April 14, 2012 - Portage, IN Camelot Hall
April 15, 2012 - Waterloo, IA Spicoli's Grill
April 16, 2012 - Peoria IL Brass Rail
April 17, 2012 - Milwaukee, WI Rave
April 18, 2012- St Paul, MN Station 4
April 19, 2012 - Winnipeg, MB Park Theatre
April 20, 2012 - Regina, SK The Exchange
April 21, 2012 - Edmonton, AL Pawn Shop
April 22, 2012 - Prince George, BC The Generator
April 23, 2012 - Vancouver, BC Red Room
April 24, 2012 - Seattle WA El Corazon
April 25, 2012 - Portland, OR Hawthorne Theatre
April 26, 2012 - San Francisco, CA The Grand Ballroom
April 27, 2012 - Anaheim, CA The Grove
April 28, 2012 - Bakersfield, CA Jerry's
April 29, 2012 - Las Vegas, NV Cheyenne Saloon
April 30, 2012 - Salt Lake City, UT Vertigo
May 1, 2012 - Englewood, CO Moe's
May 2, 2012 - Albuquerque, NM Sunshine Theater
May 3, 2012 - Odessa, TX Dos Amigos
May 4, 2012 - Dallas, TX Trees
May 5, 2012 - Houston, TX Scout Bar
May 6, 2012 - Tyler, TX Clicks
May 7, 2012 - Oklahoma City, OK The Roxy
May 8, 2012 - Tulsa, OK Marquee
May 9, 2012 - Kansas City, MO The Beaumont Club
May 10, 2012 - St Louis, MO The Firebird
May 11, 2012 - Joliet, Il Mojoes
May 12, 2012 - Detroit, MI Blondie's
May 13, 2012 - Cleveland, OH Peabody's
May 14, 2012 - West Springfield, VA Jaxx
May 15, 2012 - Baltimore, MD Soundstage
May 16, 2012 - New York, NY The Gramercy Theatre
May 17, 2012 - Hampton Beach, NH Wallys Pub
May 18, 2012 - Worcester, MA Tammany Hall
May 19, 2012 - Boston, MA Middle East Downstairs
May 20, 2012 - Auburn, ME Club Texas
May 21, 2012 - Montreal, QUE FouFounes
May 22, 2012 - Ottawa, ON Mavericks
May 23, 2012 - Hartford, CT Webster Theater
May 24, 2012 - Trenton, NJ Championship Bar and Grill
May 25, 2012 - Providence, RI The Ruins at Coliseum