The All American Rejects Concert Pictures
Sheila
Misc
3 minute read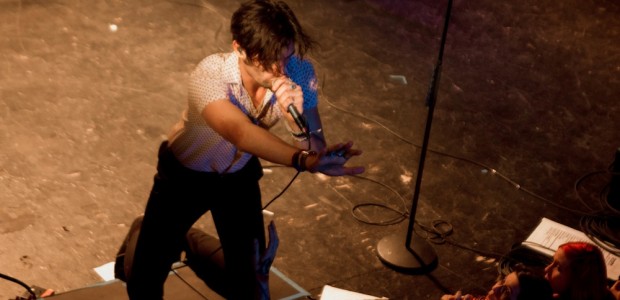 Touring in support of their album--Kids In The Street--released this past March, The All American Rejects came to Montreal along with A Rocket To The Moon, playing at Le National in Montreal.
A Rocket To The Moon
Click on the photo above to see more pics
Playing for only the second time in Montreal, A Rocket To The Moon took to the stage to get the crowd ready for The All American Rejects. While they haven't released a full length album since 2009, the band assured fans that they were writing and recording in between tours, and that they hoped that they would have new music by this summer. They not only played their songs, but they also did a cover of the Tom Petty hit, Free Fallin. Slowing things down a bit, they followed it with their love song, Baby Blue Eyes. While their set was strong and their attempts at French were amusing, lead singer Nick Santino's mic could have been turned up a bit as the vocals were muffled at times. To close out their set, they played their hit song, Like We Used To, and Mr. Right off of their 2009 release, On Your Side.
The All American Rejects
Just in case you had forgotten about The All American Rejects, the band took to the stage ans reminded everyone who they were by playing their massive hit, Dirty Little Secret, to kick things off. There was no shortage of energy coming from the stage with all of the band members making the most of the stage, jumping around and playing it up for the crowd. Playing all of their hits, they also introduced the crowd to their newer songs off of Kids In The Street.
After they performed Swing Swing (which was just one of the many crowd faves), frontman/bassist Tyson Ritter pointed out that that song was 10 years old. While some bands may get a little tired with some of their older songs, The All American Rejects showed no signs of that; instead, they played their decade-old songs as if playing them for the first time. Midway through their set, it was time for a photo op for the crowd; before taking the pic, Tyson said, "I take a picture every night so that I can remember this."
Click on the photo above to see more pics
As mentioned earlier, the band's on stage energy was incredible; guitarists Nick Wheeler and Mike Kennerty hopped around the stage, nearly colliding with each other multiple times. Touring bassist Ethan Novak filled in for Tyson whenever he just wanted to take on singing duties, and touring keyboardist Matt Rubano also added to the live show. In between songs, Tyson took the time to flirt with the ladies in the crowd (while getting groped in the process), as well as to tease the crowd before launching into their hits. A great example of this was when drummer Chris Gaylor played short bursts of the intro to their hit Move Along, while Ritter did some interpretive dance. Little by little, more and more beats were added up until the audience couldn't take it anymore, at which point they continued on with the song.
After coming back for an encore and before playing Kids In The Street, Tyson told the crowd, "This song is for you, the kids, the people who wish they were still kids." To cap off their set, they played another one of their big hits--Gives You Hell. While they did play a lot of songs of their most recent album, they made sure to include their classic hits to appease fans, old and new.
Both bands are still on tour; for more information, visit their websites:
https://www.allamericanrejects.com/
https://www.arockettothemoon.net/