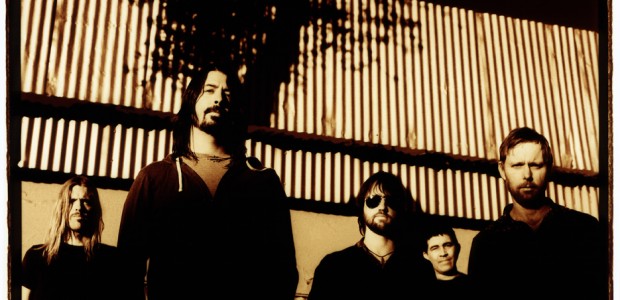 As a musician, you know that creating the world's best record means nothing if no one else will listen to it. Putting out as many ads and promotional material you can is a great solution, but it can get expensive really quickly. In today's world, it has become much easier to get the word out about your band without breaking the bank too much. The example we'll be using today is Foo Fighters and their clever promotional campaign for Wasting Light. If you're a new band or even an industry veteran, listen up, and take notes!
Viral Video
We've all seen viral videos, whether it's someone dancing in a funky way, an auto-tune of a funny interview or a song that's so bad, it's good. The Foo Fighters saw an opportunity here and created their own viral videos. Their concept was simple: they put on silly props and pretended that they were making a music video for an upcoming song. During the video, Dave Grohl gets fed up and says, "This  video sucks" and then prompts his fans to make a better video.
How you can do it: You can't create a video and hope it will go viral, it just doesn't work that way.  Try getting as many people to comment on your video and post it as video responses on YouTube. You'll need an original idea; if you can't think of anything, babies and kittens always work well.
Foo Fighters Play in Your Garage
A few years ago, Foo Fighters played at Wembley Stadium in the United Kingdom in front of 86,000 fans. How do you beat that? By not letting your ego get in the way. For Wasting Light, they put up a contest across various cities and if you won, Foo Fighters will not only show up at your house, but they'll play a full gig in your garage. It's really fitting considering the entire album was recorded in Dave Grohl's garage.
How you can do it: If you're already a garage band, this doesn't make much sense so think outside the box. Why not take advantage of your talent and run a contest? The prize could be something as simple as rewording your song so that it means something special to the winner (birthday songs do well).
Biopic and Live Show...in 3D!
Alright, so the 3D part is a gimmick but the rest of the concept is really cool. This method is out of reach for smaller bands but for history-rich band like Foo Fighters, it works well. They filmed a documentary, Back and Forth, that will play in theaters for one day only (which has been expanded to two days to accommodate international theaters). Not only do you get to see their entire biography, but afterward, you're treated to a filmed live performance of Wasting Light by Foo Fighters.
How you can do it: Okay, your band is probably too new for a biopic but that doesn't mean you can't think long term. You should always write down notes (on paper) after shows, film the crowds from the stage between your songs and keep as much memorabilia as possible. These can make for good giveaways and who knows, if you do make it big, you can always look back at the stuff you've collected it and use it in your own biopic.
White Limo
One of the songs on Wasting Light is named White Limo. What better way to promote the album than to cruise around random cities in a white limo and blast your new music. Foo Fighters even created a dedicated website showing spots where the white limo might appear next.
How you can do it: Don't rent out a limo! Instead, find something that defines your album and find ways to use it to your advantage. For example, if you have a song about skateboards, why not organize a competition at a local skateboard shop and offer the track for free. If you get new fans, maybe they'll pick up the album.
Secret Shows
Why bother with a show if no one will know about it? It's simple really. It allows the band to practice their new songs and see what the reception is like in a more casual environment. In addition, there is a lot of hype that quickly gets built up when fans are trying to piece the puzzle together and find out where the show is located. If you do make it to the event, you'll feel that much more special and you'll probably evangelize the band as a result. For Foo Fighters, they posted pictures that hinted at the location of their shows; if you were a good detective, you could figure out where they'd play next.
How you can do it: Don't! You're looking to increase your fan base so instead, consider charity and relief events. Perform for free at a local music fundraiser and if there aren't any, get a bunch of bands together and organize one. Don't be greedy, perform for free a few times to get your name out and you'll quickly start to gain new fans. More fans means more album sales.
Social Networking
One of the tricks Foo Fighters relied heavily on to market Wasting Light was social media. They promoted their viral video on YouTube. They used yfrog to send out picture indications as to where the secret shows might be held. Twitter and Facebook were used to keep their fans informed of all the activities.
How you can do it: This is one of the most crucial methods for gaining new fans. Create a Facebook page for your band. Open a Twitter account. Consider Foursquare and check into venues before you play. Post your pictures on Flickr. There are tons of social networking sites out there, you'll want to focus mostly on the bigger ones. The most important piece of information we can give you is to establish an open communication with your fans. Ask them questions, answer theirs.
Conclusion
As you can see, Foo Fighters had an excellent marketing strategy for Wasting Light. They've not only gotten their fans excited for the album but it was hard for media, ourselves included, to not cover all their antics. Most of the alternatives we mentioned should help increase the amount of fans your band has which, in return, will help increase your album sales. If you've got any other ideas, please let us know in the comments section below.
Main Photo Credit: Steve Gullick