Courage My Love Talks EP, Fans, and...Gene Simmons? [Video]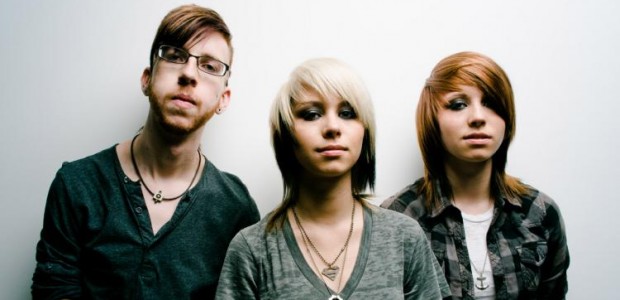 Talented. Energetic. Fun. These are some of the words that describe Courage My Love, a Canadian 3-piece band that is winning audiences over wherever they go. We had the opportunity to see them perform, as well as have a chat during our video interview (see below).
The concert
On Saturday, Courage My Love--comprised of David Blake-Dickson, and twins Phoenix and Mercedes Arn-horn--opened for Bleeker Ridge at Cafe Chaos in Montreal. They performed tracks off of their For Now EP, including Bridges and Barricade. Their energy was infectious and the music was tight. The crowd even caught a sneak peek of new track, We're Not In Kansas Anymore--said to be about standing up for your beliefs--and a cover of Metric's Black Sheep.
At the end of their performance, the audience was in agreement about one thing--their set was too short. So, they demanded an encore. In all of the concerts I have been to (and there have been a lot), I have never seen the crowd request an encore from a supporting act. This alone speaks volumes. And instead of repeating an already-performed track, Courage My Love gave their fans a taste of something a little different by covering Usher's OMG, infusing their own style. Solid set.
Before the show, we spent some time with Phoenix, Mercedes, and David, getting the scoop on their plans for this year, their fans, their music, Tegan and Sara, and even their industry showcase for Gene Simmons of KISS. Check out some of our interview highlights below.
What's been your proudest moment as a band so far?
Phoenix:
Honestly, I really can't say; we've come pretty far from where we started. I guess for me, my proudest moment would probably be actually getting signed but still being able to maintain creative control of our music, 'cause when an indie band gets signed, they're always a bit nervous about creative control. But so far, we've still been able to totally write our own music, not have to worry about anyone butting in, so I'm very proud of that. 
What would your fans be surprised to know about you?
David:
I think they'd be surprised by my addiction to Tim Hortons peach juice […] because it's delicious.
What can we expect from Courage My Love in 2012?
Mercedes:
We just finished recording our acoustic EP, which is an acoustic version of the For Now EP that we put out. And all of the arrangements are totally different; they almost sound like brand new songs [...]
We chatted about way more than is mentioned here, so check out the video below to find out even more about Courage My Love!
Check out our pictures from the show on our Facebook page, and stay tuned for our upcoming Courage My Love giveaway!