Osheaga Announces 2013 Lineup
Sheila
Misc
2 minute read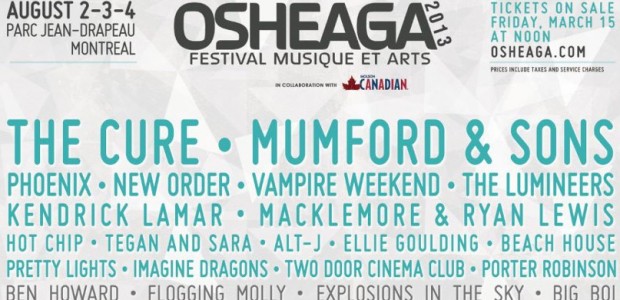 As the snow begins to melt, Montreal music fans are getting excited for the summer festival season. One of the biggest festivals our fine city has to offer is the Osheaga Music Festival. Last night, organizers announced their 2013 lineup for the festival that will take place from August 2nd to 4th at Parc Jean-Drapeau.
Some of the big names this year include The Cure, Mumford and Sons, Phoenix, New Order, and Vampire Weekend, to name a few. As if those names weren't enough, there are rumours swirling that two more big-name bands will be added to the mix--Green Day and Yeah Yeah Yeahs. According to La Presse, someone spotted the biographies for those two bands on Osheaga's official site; however, they've since been taken down.
Considering Osheaga takes place in the great white north, you'll definitely see some home-grown talent on those stages; Hollerado, We Are Wolves, Diamond Rings, and Tegan and Sara are just a few of the Canadians hitting the stages. We know Tegan and Sara will be welcomed with open arms; check out our review of their set and our interview with Sara when they played the Metropolis theatre last December.
All of the confirmed acts are listed below, and if you look near the bottom, you'll see that there are more than 20 acts that are yet to be announced!
Three-day festival passes will go on sale March 15th at noon (EST) and travel packages are available. We have attended this great festival over the last few years; check out our highlights from 2009, 2010, 2011, and 2012.
As additional bands are announced, we'll let you know.