Courage My Love Announce The Becoming Tour
Sheila
Misc
2 minute read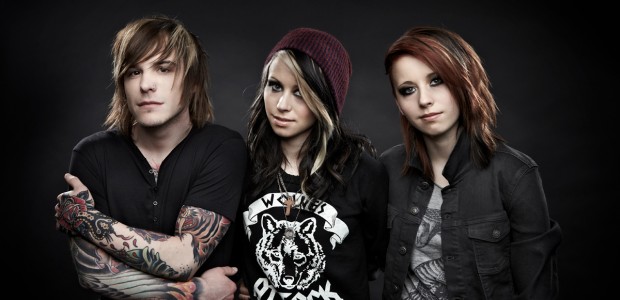 When it comes to bands that deserve more attention, Courage My Love is definitely at the top of our list. This talented Canadian band has just announced an all new tour that will have them playing shows in the US and in Canada later this year. Joining them on the road for the Canadian dates will be Crystalyne.
Kicking things off in Kitchener, ON on November 17th, the band will make its way across Ontario and Quebec before heading down to the States ending their run in Lansing, MI on December 20th. For more information on their tour, visit their Official Website. If they are playing in your city, we recommend checking them out, we think you'll be pleasantly surprised.
We had a chance to chat with this energetic three piece earlier this year, enjoy the entire interview just below the tour dates.
Courage My Love - The Becoming Tour
November 17 - Kitchener - Corkhall at McCabe's
November 20 - Guelph - Van Gogh's Ear
November 21 - London - London Concert Theatre
November 22 - Toronto - The Mod Club
November 23 - St. Catharines - Detour Music Hall
November 24 - Chatham - Encore Club
November 26 - Hamilton - Bay City Music Hall
November 27 - Ottawa - Cafe Dekcuf
November 28 - Kingston - The Mansion
November 29 - Montreal - Underworld
November 30 - Quebec City - L'Agitee
December 07 - Cambridge, MA - The Middle East
December 08 - Hamden, CT - The Space
December 10 - Rockville Center, NY - Vibe Lounge
December 11 - New York, New York - The Studio at Webster Hall
December 12 - Philadelphia, PA - The Barbary
December 13 - Stanhope, NJ - The Stanhope House
December 15 - Buffalo, NY - Waiting Room
December 17 - Pittsburgh, PA - Smiling Moose
December 18 - Kent, OH - The Outpost
December 19 - Chicago, IL - Reggies Rock Club
December 20 - Lansing, MI - Mac's Bar
Courage My Love -  Video Interview