Hedley Montreal Concert Review
Sheila
Misc
3 minute read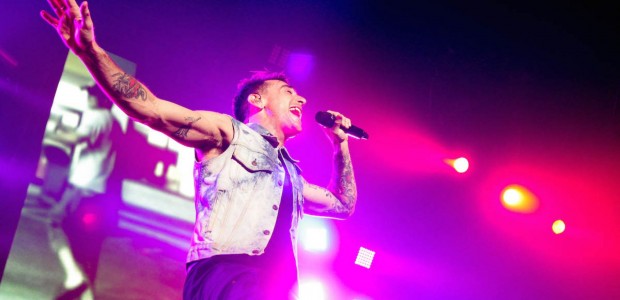 Last Friday night in Montreal, Hedley brought their Wild Live Tour to the Bell Centre. Playing to almost 9100 screaming fans, Hedley managed to turn the arena into a huge club for the night.
As the lights dimmed, fans were first treated to an amusing video of the band in an A-Team spoof. As the clip ended, a massive curtain dropped revealing the stage, and the guys jumped right into it playing the first single off of Wild Life, Anything. From the get-go, it was easy to see that it would be a high energy night. Frontman Jacob Hoggard took full advantage of the stage—as well as the catwalk that jutted out into the crowd—by jumping around, interacting with fans and his fellow band mates throughout the night.
One Life, and I'll Be With You came next, followed by Don't Talk to Strangers and Dreaming's For Sleeping. Slowing things down a bit, Jacob took to a piano for their track Invincible during which fans raised their cell phones, lighting up the entire venue.
Back at the piano for All The Way, Jacob showed off his vocal range hitting the high notes with ease. Midway through the song, there was a mini drum interlude with Jacob joining Chris on his own partial set of drums.
After another video clip, the band returned to a smaller stage in the middle of the floor. Playing with more of an acoustic feel, they played Old School, and Heaven In Our Headlights. During For the Nights I Can't Remember, a giant disco ball lit up the crowd adding to the overall emotion of that song. Prior to playing the title track of their latest release Wild Life, Jacob told the crowd, "Montreal, you take my breath away."
I never thought I'd see the day when I'd see cheerleaders on stage during a rock show, but during Cha Ching, 20 or so of the Montreal Alouettes cheerleaders joined the band as backup dancers. Headphones and Crazy For You were up next followed by a drum solo by Chris Crippin.
As if the cheerleaders weren't enough of a surprise, they also played a cover of Miley Cyrus' track We Can't Stop. They added their own twist to the lyrics singing about smoked meat, needing a francophone queen, and needing someone that they could share their poutine with. Perfect came next followed by a short cover of Rihanna's Stay. To close out their set, fans were treated to a guitar solo from Dave Rosin, followed by Villain—off their debut self-titled album.
Coming back for an encore, Hedley was joined on stage by popular Quebecois singer, Andee for a performance of Kiss You; unfortunately from where I was sitting, her vocals weren't coming through very clearly. Sweater Song followed, and to close out the night, they played their old school hit, Never Too Late.
If you've been putting off buying tickets to one of their shows, don't miss out, there are still a bunch of dates left on Hedley's Wild Live Tour which can be found on their Official Website. Also don't forget to check out our complete Hedley Photo Gallery from last night.
For all of your Montreal concert ticket needs, visit our friends at Evenko.