Portugal. The Man Montreal Concert Photos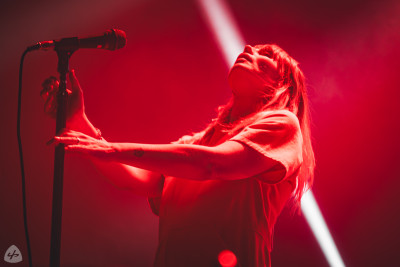 Prior to the band taking to the stage, Lakota Harden, a highly respected community leader, and elder, gave fans in attendance a brief history lesson about the sacred land that we call home, and how she's so happy to be able to have the opportunity to spread her knowledge to the younger generations. She also showed appreciation to the band for inviting her to come along on their journey. She joked with the fans that they probably weren't expecting a history lesson before a rock show, but judging by their reaction to her being on the stage, they didn't mind at all.
Portugal. The Man are currently out on tour supporting their latest release, Chris Black Changed My Life. The album is their ninth studio release, and is dedicated to their friend, Chris Black who passed away in 2019.
Unfortunately we were only able to catch the tail end of the opening act, Good Kid, but from what we saw, we'll definitely make sure we're able to catch them next time around. Check out their website for more.
Enjoy our photos from the show, and be sure to check out Evenko and Greenland Productions for upcoming shows in and around Montreal