Amy Lee plays Legends And Lyrics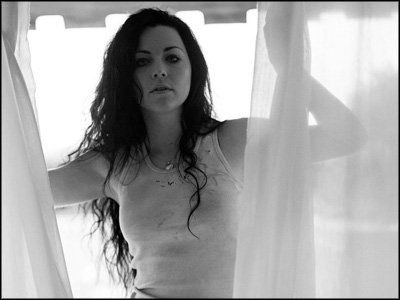 In front of a shining black Baldwin piano, Amy Lee of Evanescence made her first real performance in over a year…and it was a good one. On February 23, 2009, the hauntingly beautiful singer/songwriter could be found at a taping of Legends and Lyrics in Nashville, Tennessee, sharing the stage with artists Gavin DeGraw and Dwight Yoakam.

Though out of her element in an ''in the round" session, she quickly made herself comfortable at the piano, performing an acoustic set with guitar (cue Terry Balsamo of Evanescence) and cello. The trio can only be described as raw, ethereal, and haunting.

Lee, the first of the artists to perform, began with Bring Me To Life from the album Fallen, setting the bar for the program. Before delving into Lithium, from album The Open Door,  Amy felt the need to clarify the meaning of the song. Speculating that there were likely many interpretations, she explained simply that the song was about choosing to feel over choosing numbness. Good Enough, also from album The Open Door, was described by Lee as the "happy song" of the evening. Before Call Me When You're Sober, again from The Open Door, she went on to explain how the song was created from two very different pieces, one from her, one from Terry.

For Amy's final song of the evening, it was a surprise and an honor to be privy to her new song, one that had not yet been performed for a public audience. From the first few notes and syllables uttered, Lee held the crowd, including Gavin DeGraw and Dwight Yoakam, in the palm of her hand. The piece, entitled Your Love, was described as being about love that cannot work. It took a few moments for the spell to wear off once the song was over.

There are artists whose live performances fall short, that disappoint. Amy Lee is not one of those
artists. Her emotions run deep and when she bares herself to her audience, it's difficult not to take notice; you cannot just hear her words, you feel them as well.

These sessions of Legends and Lyrics are expected to begin airing in April 2009. Mark your calendars, you won't want to miss this one.
Check out UpVenue's exclusive photos from this event.
Bring Me To Life
Lithium
Good Enough
Call Me When You're Sober