A Tribute to Michael Jackson, the King of Pop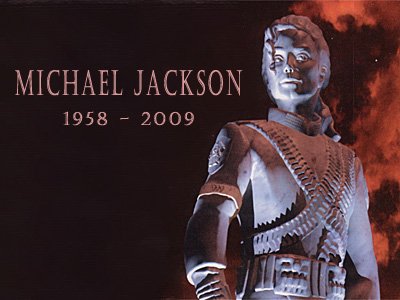 Earlier this week, we didn't just lose a singer; we lost a legend, the king of pop and possibly the most influential artist of all time. The media loved him in the 80s when he was the epitome of cool, hated him in the 90s when it was the "in" thing to do, but now that Michael Jackson is gone, everyone has realized that a huge part of music has also died with him.
While his later years were filled with controversy surrounding his private and questionable lifestyle, you would have to be very naive to neglect all the good Michael Jackson has done for the music industry and the world as a whole. His biggest achievement came with the release of "Thriller" in the early 80s;  not only because it's the best selling album ever, but also because Thriller marked the beginning of change in the music world. For the first time ever, MTV began featuring and promoting music from a black artist (yes there was a time where MTV stood for Music Television).
His second biggest accomplishment came in the form of a Guinness Book World Record. While MJ did receive many Guinness records for his music, he also received one for supporting 39 different charities and being the individual who has contributed the most in the world to charity.
In honor of his life and death, we have listed below a few of our favorite Michael Jackson music videos and an awesome live performance. Check out the Michael Jackson YouTube Channel for all his other videos.
Smooth Criminal
Smooth Criminal is the absolute coolest and most stylish of MJ's music videos. The video also showcased the unique shoes that Michael invented and patented that allow him to tilt at over 45 degrees without any problems.
Billie Jean
Billie Jean was written as a response to one of Michael Jackson's crazed fans who claimed that he fathered one of her kids. The song is incredible and the video became infamous after introducing us to Michael's most popular dance move; The Moonwalk.
You Are Not Alone
While Jacko's later efforts like HiStory weren't as well received as his earlier material, it's no secret that You Are Not Alone is one of Michael Jackson's touching songs. In this provocative music video, we witness a very intimate moment between Michael and his ex-wife, Lisa Marie Presley. No dance moves in this one kids, sorry.
Bad
A darker side of MJ was shown in this highly choreographed music video that was originally meant to be a battle between Michael and Prince. He's seen wearing all black leather and doing his controversial crotch grabs. Wesley Snipes makes his hollywood debut in this video.
Scream
The music video for Scream cost over $7 million to produce making it the most expensive one ever at its time. It was a different, more funk / rock song for Michael and his sister, Janet. MJ also played most of the instruments for the song.
Thriller
The absolute best music video of all time; Thriller scared some of us as children (not me! I swear) but even after all these years, it's still an incredible video accompanied with an equally impressive song.
MTV Music Awards 1995
An amazing live performance by MJ with some help from Slash and many others. 20+ years of music squeezed into 10 minutes of pure musical genius.