Alice in Chains' Black Gives Way to Blue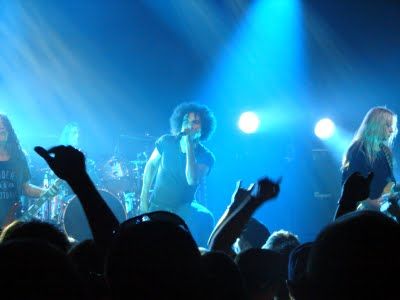 It's been a long time coming but after a long fourteen year wait, Alice in Chains have finally released their fourth studio album. This is the first Alice in Chains record with their new singer William DuVall (who also gets some aid from Jerry Cantrell on some tracks). Black Gives Way to Blue has dropped in stores today and after a few listens, it's time for our review.
The Bad
I'm gonna be frank here, William DuVall might be good at impersonating Layne Staley however that's my biggest gripe with the album -- DuVall is so focused on trying to mimic Staley that his own voice is just lost. Even on the musical front, Alice in Chains is trapped in the 90s grunge era and have refused to let go with this album. If a resurgence of grunge is what they were aiming for, they've missed their target as this album doesn't bring enough new to the table to garner the attention of this next generation of music lovers.
The Good
Despite what was just said, this isn't a bad album. Even if it feels a bit dated there are some interesting tracks to be found here. Acid Bubble, Lesson Learned, A Looking in View are a few of the stand outs. Your Decision is a mellow and soft track with some excellent vocals. The title track has Elton John on piano and is a more uplifting song; it also shows that band is ready to move on after Layne's death with this, perhaps, being their final homage to the late singer.
The Verdict
I will admit that the album has grown on me after a listening to it a few times. It's very reminiscent of their older stuff though I must stress that it does feel dated for 2009 (double edged sword right?). The lyrics from Black Gives Way to Blue perfectly describe my sentiments towards the album: "Fading out by design, Consciously avoiding changes"
Let's face it, there aren't many new grunge albums out there so if you're looking for a grunge fix, Black Gives Way to Blue will fill the void. If you're a fan of Alice in Chains, Staley is dead, DuVall is a great replacement, live with it and check out this album. For those of you looking for a fresh new rock album, you'll probably need to look elsewhere. Check out some of the songs below and form your own opinion:
Acid Bubble
Your Decision
A Looking in View