Everything You Need To Know About Rock Band 3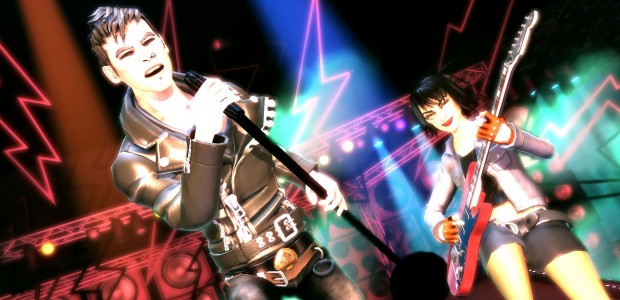 After several spin-offs and a two year break, Harmonix, MTV Games and EA Games are bringing new life to the Rock Band franchise with their third installment. Rock Band 3 will not only introduce 83 new songs but the gameplay mechanics have also been revamped. There are new play modes, new instruments, new features and a pro mode that can help turn you into a real musician.
Improved Music Library Management
The way the music library is organized has vastly improved in Rock Band 3. For starters, you can now save your playlists and share them online. In addition, you can filter out songs that you don't want to play anymore; I'm looking at you A Jagged Gorgeous Winter. There's even a song recommendation option built-in that can help choose tracks for you based on your preferences.
New Instruments
As good as the instruments were in the previous Rock Band games, it was a bit silly to play The Final Countdown DLC without a keyboard. Thankfully, the rock gods over at Harmonix have solved the issue by introducing a keyboard to the mix. Nine Inch Nails and Europe fans rejoice! Not only can you use the keyboard as a peripheral for the game but it also doubles up as a real instrument. It's unlikely that all released songs will be retrofitted to support the keyboard but we can confirm that Harmonix will go back and revisit at last some of the songs.
The guitars have also been given a major improvement but more on that in the next section.
Pro Mode
The biggest addition to Rock Band 3 isn't the keyboard (and no, sorry, there is no keytar.. yet). Harmonix has introduced a new game mode to spice things up. Pro mode brings Rock Band to a whole new level of realism by allowing you to play the "fake" instruments just like you would real ones. Here's how it works:

Pro Keyboard: Playing the keyboard in pro mode requires pitch accurate key presses with a two-octave range. All keys are usable.

Pro Drums: Attach the optional cymbals and you can play drums like they're meant to be. The game will differentiate the toms from the cymbals.
Pro Guitar: The Rock Band guitar has always been the instrument that least accurately portrayed its real life counterpart. That is, until now. Harmonix has teamed up with Fender and are introducing a fully functional, full sized, 6-string Squier Stratocaster. The game will actually teach you how to play a real electric guitar using its training modes. Done playing? Plug the guitar into an amp and voila, you're ready to rock out with Freebird (or maybe just start off with Green Day's Good Riddance).
How does the real guitar work in Rock Band? Check out this video for a full explanation. Warning, it's pretty crazy.
Midi converter
There will also be a midi converter that can be bought for Rock Band 3. The adapter will run you $40 and allows you to plug in your real keyboard or electric drum kit to play the game and is required for the Squier guitar.
New Gameplay Modes
Party mode is a welcomed addition to the game. This mode allows you to jump in and out of the action whenever you wish and even change difficulty on the fly for when you overestimate your drumroll skills.

Career Mode is more for the hardcore crowd. This mode features over 700 goals and rewards and can take months to finish at 100%. Leaderboards are also fully integrated into career mode.

Social Networking has also been added into Rock Band 3. Your friends can now see that when you said you had "other plans" on a Friday night, you really meant to say that you were staying at home playing Don't Stop Believing. Don't worry, we won't blame you, we'll admit to doing the same. Twitter and Facebook support has been confirmed.
The Songs
Not only does Rock Band 3 feature 83 songs in total but you also have access to over 2000 songs that are already available in the Rock Band store. The old songs will work with Rock Band 3 and there's a new export key (which will cost slightly more than the $5 Rock Band 1 export key) to bring in your Rock Band 2 songs into the game. If you've exported your Rock Band 1 songs already, those will also work in Rock Band 3.

In addition, pro versions for *some* songs will also start to become available (we don't have an exact count). The pro versions will not cost more for keyboards and drums, they're free if you already have the songs; however, there will be an extra $1 fee for the guitar pro version; After all, the charts are a lot more complicated on those.
When's Rock Band 3 coming out?
Rock Band 3 hits US and Canadian stores on October 26th, 2010, Europe on October 29th, 2010 and Australia gets the goods first on October 21st, 2010. The game will be available for the Xbox 360, Playstation 3 and Nintendo Wii. A Nintendo DS version is also planned.
Rock Band 3 Track List
2000's:
Amy Winehouse, "Rehab"
At the Drive-In, "One Armed Scissor"
Avenged Sevenfold, "The Beast & the Harlot"
Dover, "King George"
The Bronx, "False Alarm"
The Flaming Lips, "Yoshimi Battles the Pink Robots Pt. 1"
HIM (His Infernal Majesty), "Killing Loneliness"
Hypernova, "Viva La Resistance"
Ida Maria, "Oh My God"*
Juanes, "Me Enamora"
Metric, "Combat Baby"*
Paramore, "Misery Business"*
Phoenix, "Lasso"*
Poni Hoax, "Antibodies"
Pretty Girls Make Graves, "Something Bigger, Something Brighter"
Queens of the Stone Age, "No One Knows"
The Ravonettes, "Last Dance"
Rilo Kiley, "Portions for Foxes"*
Riverboat Gamblers, "Don't Bury Me...I'm Still Not Dead"
Slipknot, "Before I Forget"
The Sounds, "Living in America"
Tegan & Sara, "The Con"
Them Crooked Vultures, "Dead End Friends"
Tokio Hotel, "Humanoid"*
The Vines, "Get Free"*
The White Stripes, "The Hardest Button to Button"*

1990s:
Faith No More, "Midlife Crisis"*
Filter, "Hey Man, Nice Shot"
Jane's Addiction, "Been Caught Stealing"*
Maná, "Oye Mi Amor"
Marilyn Manson, "The Beautiful People"
The Muffs, "Outer Space"
Phish, "Llama"
Primus, "Jerry Was a Racecar Driver"
Rammstein, "Du Hast"
Smash Mouth, "Walkin' On The Sun"*
Spacehog, "In the Meantime"
Stone Temple Pilots, "Plush"
Swingin' Utters, "This Bastard's Life"

1980s:
Anthrax, "Caught in a Mosh"
Big Country, "In a Big Country"
The Cure, "Just Like Heaven"*
Def Leppard, "Foolin'"
Devo, "Whip It"
Dio, "Rainbow in the Dark"
Dire Straits, "Walk of Life"
Echo & the Bunnymen, "The Killing Moon"
Huey Lewis and the News, "The Power of Love"
INXS, "Need You Tonight"*
J. Geils Band, "Centerfold"
Joan Jett, "I Love Rock N' Roll"*
Night Ranger, "Sister Christian"*
Ozzy Osbourne, "Crazy Train"*
The Police, "Don't Stand So Close to Me"
Roxette, "The Look"*
The Smiths, "Stop Me if You Think You've Heard This One Before"
Tears for Fears, "Everybody Wants to Rule the World"
Whitesnake, "Here I Go Again"*

1970s:
The B-52's, "Rock Lobster"*
Blondie, "Heart of Glass"
Bob Marley, "Get Up, Stand Up"
Chicago, "25 or 6 to 4"
Deep Purple, "Smoke on the Water"
Doobie Brothers, "China Grove"*
Elton John, "Saturday Night's Alright for Fighting"
Foreigner, "Cold As Ice"*
Golden Earring, "Radar Love"
John Lennon, "Imagine"
Lynyrd Skynyrd, "Free Bird"
Queen, "Bohemian Rhapsody"*
Ramones, "I Wanna Be Sedated"
Steve Miller Band, "Fly Like an Eagle"
T. Rex, "20th Century Boy"
Tom Petty and the Heartbreakers, "I Need to Know"
War, "Low Rider"
Warren Zevon, "Werewolves of London"
Yes, "Roundabout"*

1960s:
Beach Boys, "Good Vibrations (Live)"
David Bowie, "Space Oddity"
The Doors, "Break on Through (To the Other Side)"*
James Brown, "I Got You" (I Feel Good) – Alternate Studio Version*
The Jimi Hendrix Experience, "Crosstown Traffic"*
The Who, "I Can See for Miles"
*Songs available on Rock Band 3 for Nintendo DS