Brandon Flowers Concert Review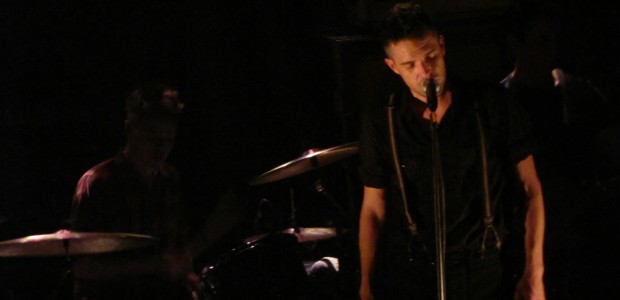 Brandon Flowers is probably best known as the frontman for The Killers; so when he announced a solo tour for his album, Flamingo, I was intrigued. Could he possibly replicate, or even exceed, the musical prowess that he's known for with The Killers? Short answer: yes. Read on.
Transfer
The night began with band Transfer; their dedication to their music was infectious, winning over the initially hesistant Montreal crowd. While I never thought I would quote Dolly Parton, the quote, "know who you are, and do it on purpose" fits Transfer, as they seem to have a strong sense of self, both musically and as people. Their sound won me over, with their song Wake to Sleep, resonating with me in particular. Look out for these guys, I think we'll be hearing more about them in the future.
Brandon Flowers
When the lights dimmed, and Brandon Flowers' band came onto the stage - which included female backup singers - the audience yelled, "Brandon! Brandon!" in excited anticipation. When he appeared onstage, he was warmly welcomed with the screams of his fans. The show started with the mellow On the Floor, drawing the audience in immediately to an intimate concert experience, and lulling the crowd into a sense of welcomed stillness with the rich tones of his voice. I was surprised that Crossfire came next; I'd expected it as the encore, and began to wonder what song would end the night. I needn't have worried.
There were many highlights. When Welcome to Fabulous Las Vegas began, the audience outsang Flowers; one could not help but notice the smirk that tugged at his lips to hear the crowd participation. This was one of my favourite moments. Another moment materialized during Only the Young, when both band and audience became one, singing, "Only the young can break away, break away. Lost when the wind blow; on your own, ohh..." while the audience mirrored Flowers' movements. Other songs performed included Jilted Hearts & Broken Hearts, Hard Enough, and The Clock Was Tickin'.
At the very end of the concert, he was alone on the stage with his guitarist. He began to explain that the song he would perform was something he'd done with The Killers, but he had found a way to make it a gentler, mellower song. What song did he perform, you ask? He performed an acoustic rendition of When You Were Young, the perfect end to a great evening of music.
Throughout the show, Flowers' passion and conviction shone through his actions and his music. The songs come across as very personal to him, and for that reason, we too feel connected. If you have the chance to see this show, go; there is an intimacy that not every artist can create.