The Killers Montreal Concert Review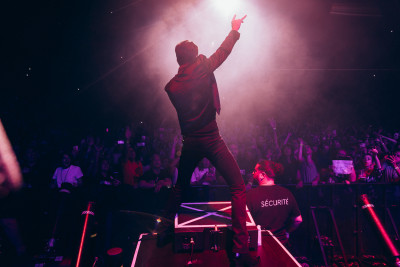 With a career that spans over 15 years and 7 albums, The Killers are one of those bands with so many concert worthy songs, that it's hard to narrow it down to under 2 hours. The band is currently out on tour supporting their last two albums, Imploding the Mirage (2020) and Pressure Machine (2021)
Johnny Marr
Opening up for The Killers was Johnny Marr. For those that don't know, he was also the guitarist/songwriter of The Smiths. While he did perform some of his solo work, he also made sure to include some of The Smiths material.
Armatopia got things started followed by Panic, a Smiths song. He did switch out the lyrics though during the song; there's mention of a few cities in the UK, so instead of saying Cardiff, it was replaced by our fair city, Montreal
Night and Day was up next followed by Spirit Power and Soul. Before playing the next track, he mentioned that it was a "disco song from Manchester" which was Getting Away With It, a cover of a song from one of his other bands, Electronic. Another Smith's song came next, There Is a Light That Never Goes Out included a nice bit of crowd participation with them clapping along to the beat and singing along during the chorus.
Easy Money was then followed by their set closer, How Soon Is Now? A little too soon to end their set in my opinion, but on the plus side, The Killers would be hitting the stage next.
One negative was that between sets, they played some really mellow/ tranquil music. All of the energy created during Johnny's set was gone. Now the question is, would The Killers be able to bring the crowd back to life?
The Killers
Starting things off with a bang, and by bang, we mean actual confetti canons going off, they opened up with one of their recent tracks, My Own Soul's Warning. They continued on with Enterlude, and one of their huge hits, When You Were Young. Safe to say that the sleepy tracks between sets didn't have a lasting effect.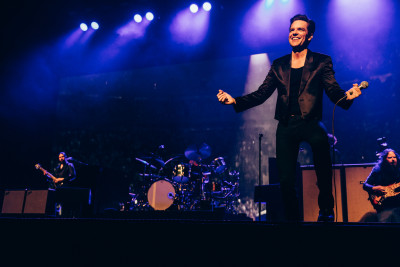 Jenny Was a Friend of Mine was next, and before playing the next song, they got the crowd involved by clapping along before Brandon got behind the synth to play those all too familiar intro notes of, Smile Like You Mean It . Shot at the Night, Cody, Human, and Spaceman came next.
With the giant background screen lit up with an image of the famous Welcome to Las Vegas sign, the lasers lit up the Bell Centre and the crowd sang along to Somebody Told Me. The Las Vegas glitz and glamour didn't end there, the pyro was a nice bonus during their performance of Miss Atomic Bomb.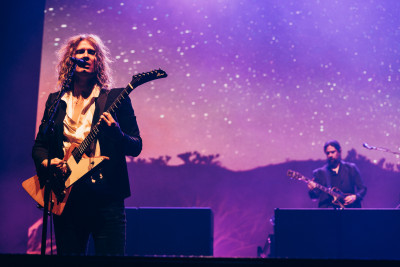 Things slowed down a bit with the country vibes of Runaway Horses followed by A Dustland Fairytale. Next up was a cover of The First Time Ever I Saw Your Face, followed by Runaways. Read My Mind, and My God were next followed by a snippet of Rut, which led into Caution.
Throughout the show, it was hard not to focus in on frontman, Brandon Flowers. When he wasn't dancing around the stage, he was behind his synth with a huge smile on his face. All These Things That I've Done let the crowd show the band once again just how much soul they had singing along during the bridge "I got soul, but I'm not a soldier".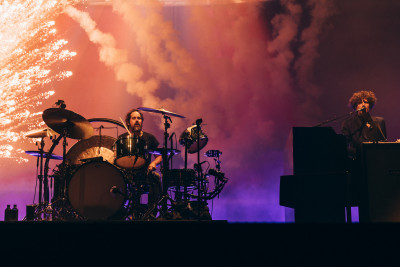 Next up was the encore. It started with The Man, and then the band was joined on stage by the man himself, Mr Johnny Marr for a cover of The Smith's song, Stop Me If You Think You've Heard This One Before. And for the grand finale, Johnny stayed on stage to help out with one of the Killers biggest hits, Mr Brightside.
It's been 18 years since the Killers debut album Hot Fuss was released, and yes, you read that right. After all of these years, and even if you were just a casual fan like myself, the lyrics to some of their songs live rent free in your head. If you get a chance to catch them live, it's definitely worth it, even if it's just to relive some of the good old days. The band will be on tour through to the end of the year.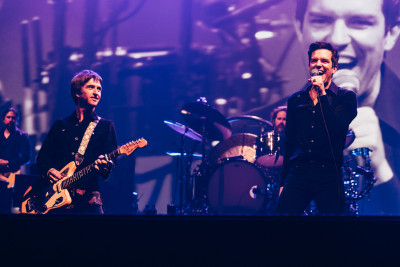 The Killers - OFFICIAL // INSTAGRAM // FACEBOOK // TWITTER
Johnny Marr - OFFICIAL // INSTAGRAM // FACEBOOK // TWITTER
Photo Credit - Chris Phelps | @chrisphelps