The Pixies In Montreal Concert Review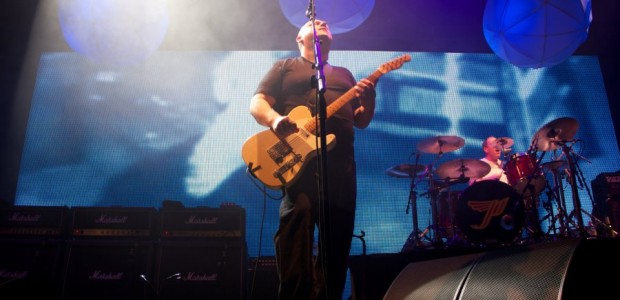 When a band announces a tour for an album that's over twenty years old, play in the same city two nights in a row, and the hometown team is playing their first playoff game of the season during that second performance; you don't really expect a big turnout. Last night, it wasn't just any group taking stage in Montreal, it was the band that the grunge movement owes much debt to: The Pixies. To my surprise, Metropolis was already fully packed before the opener, Imaginary Cities, began.
The Pixies came out to dimmed lights and bassist, Kim Deal, announced that they'd be starting off with a few b-sides. Deal mentioned that a few of the tracks were so obscure that they had to relearn them in order to play them; that didn't stop the devoted crowd from singing along. After four songs, they switched over to Doolittle playing the entire record from Debaser all the way to Gouge Away in sequence. Their performance was an accurate accord of the album, except it was much louder and more intense. The fans were very into it and managed to maintain a mosh pit for practically the entirety of the show with several people crowd surfing at the same time -- this is what a rock show should be like.
It's not uncommon nowadays for a band to perform a second encore as The Pixies did; but, as they bid their farewells, the crowd wouldn't give up and the group stayed around for a third encore. They began the third with Where is My Mind off Surfer Rosa. During their last song of the night, Kim Deal told Black Francis that she was tired and wanted to go straight to bed after this. Without that cue, the crowd probably would have gotten The Pixies to come out for a fourth encore.

Simply said, The Pixies show last night was one of the best ones I've attended in recent memory. It was a loud, energetic rock show with a very electric crowd. The Pixies are still touring Canada so if you want to see them, do it now before it's too late. Click on the image below to view our photo gallery from the show.
View our The Pixies Concert Pictures