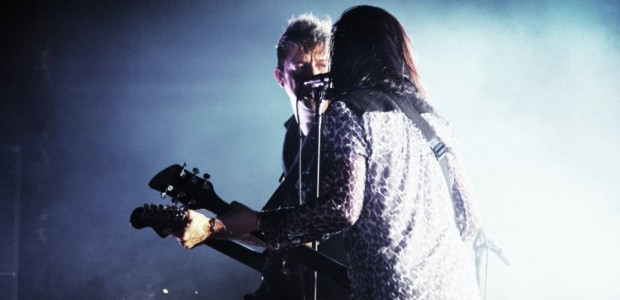 Out on tour supporting their latest release, Blood Pressures, The Kills made a pit stop in Montreal last night at the sold out Olympia Theater. It was their first visit back to Montreal since they played at [Correction] La Tulipe in 2009.
The night began with No Wow off of their second album of the same name. This was rather surprising as most bands start their sets with newer material first and then switch over to their classics to win back the crowd. This wasn't the case last night as, despite Blood Pressures being under a month old, fans sang along to every word of Future Starts Slow, Heart is a Beating Drum and Satellite when they were performed. The setlist was a mixture of all of their records featuring hits like Tape Song, an amazing rendition of U R A Fever, Sour Cherry and others. Sadly, missing from the list was a Mosshart solo of Gypsy Death & You.
The Kills were raw, they were loud and it was often hard to believe that they were a duo with all the bells and whistles that were coming from the speakers. This was achieved by Jamie Hince playing around with the effects, distortion, and other sounds on his electric guitar and Alison Mosshart running around the stage singing and switching between instruments when needed. When you're a duo, there's no room for errors and that was the case last night.
The Kills bonded and performed strikingly well together putting disbeliefs to rest that they couldn't maintain their dynamic after their long time apart and the changes in their lives: namely Mosshart joining The Dead Weather and Hince marrying model Kate Moss. After their final goodbye, the duo hugged and walked off the stage together.
The Kills are currently on tour so make sure to check them out and to buy Blood Pressures which is in stores now. For other Montreal concerts visit Evenko. Click on the image below to enter our The Kills photo gallery from last night.
See all our The Kills Concert Pictures