Lewis Capaldi Laval Concert Review and Photos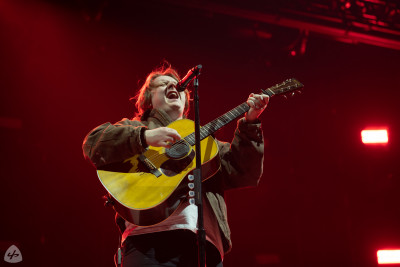 I arrived at Place Bell just a little before doors were set to open, and fans were already lined up around the block. Thankfully the ice storm that crippled the city a week ago was more of an afterthought thanks to the 15°C weather.
Seeing that I was also photographing the Lewis Capaldi's show, I was able to see a lot of the signs that fans had designed with the hopes of getting noticed by Lewis, and some of them definitely caught his attention! You'll read a little more about that further down.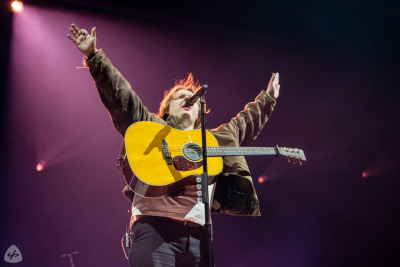 The band was first to hit the stage before Lewis Capaldi took his spot front and centre, kicking off his set with Forget Me. Next up was Forever, followed by some of the most humorous stage banter I have ever heard from a musical artist. He also didn't shy away from showing off his impressive French skills including the crowd favourite saying, "voulez vous coucher avec moi, ce soir".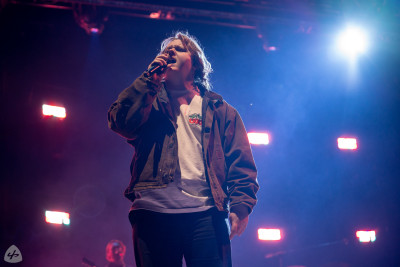 During the next song, Lost In You, Lewis paused mid song to hush the singing crowd telling them that he would do a better job singing it; not to worry, it was all in fun, the crowd did a great job throughout the night singing along every chance they had. Next up was Heavenly Kind Of State Of Mind, Fade, and Before You Go. Before playing it, he noticed one of the signs I mentioned earlier. This one read:
Go to Montreal [✔]
Go to a concert [✔]
Take a photo with Lewis [?]
And just like that, Kate from the east coast was invited on stage to add that last check mark to her sign, getting a selfie with Lewis, and a few thousand other fans.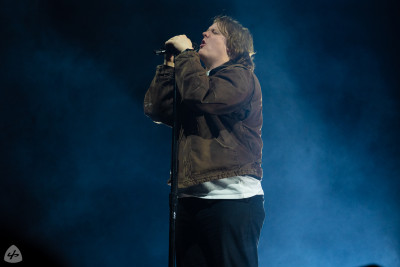 Taking a seat behind a keyboard, Bruises and Wish You The Best were next. Before playing the latter, he talked about playing Osheaga, and how his agent was nervous about what the turnout would be. Of course Montreal turned out in droves reaffirming the love of live music this city has. Those fans that took a seat during these slower songs were back on their feet for Grace as the band joined Lewis once again. He did have a request for the crowd: he jokingly requested that anyone in his line of sight should refrain from yawning, after a fan's yawn in a previous concert caught him off guard. Hopefully the good new memories from Montreal/Laval will block out the past. It's also impressive that in a sea of thousands, he's able to pick out these moments.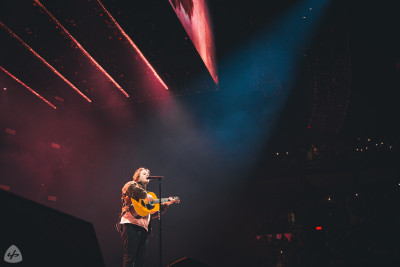 Another example of this was before playing Pointless. A fan about 2/3 of the way into the crowd held a sign about her upcoming nuptials. He also noticed someone getting up to head upstairs and asked where she was going? She said she had to pee! He then jokingly said to hold it in and stay for the next song, which he then dedicated to her, and the happy couple. Hold Me While You Wait closed out his main set.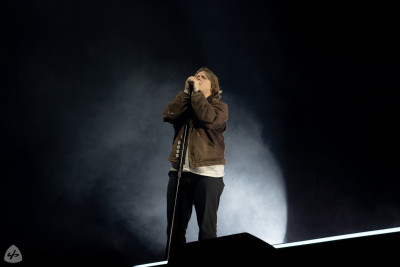 It was way too early to call it a night, and thankfully Lewis still had more to share. Not too long ago, Lewis released a Netflix documentary called How I'm Feeling Now, in which he gives fans a look behind the curtain at the pressures he faced, and faces, with fame among other things. Last up was one of Lewis' biggest songs, Someone Like You.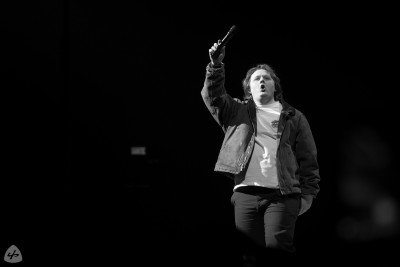 While his honest, relatable lyrics have a heavy emotional weight to them, his fun banter, and at times self deprecating humour balance it out. As mentioned, his Netflix documentary is available now, be sure to check it out. If you're looking for a concert with standup comedy show thrown in, a Lewis Capaldi concert is the way to go. You can follow him on social media for updates on his future concerts; links can be found below along with the rest of our photos.
OFFICIAL // FACEBOOK // TWITTER // INSTAGRAM // YOUTUBE