Before They Were Big: Supergroup Edition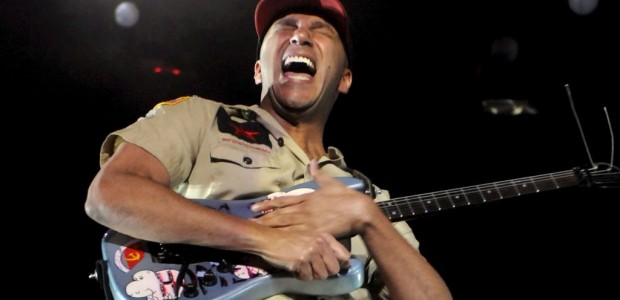 Have you ever wondered what musicians did for a living before they became rich and famous? This edition of Before They Were Big will answer just that, featuring artists who have participated in an interesting phenomenon—the supergroup.
Maynard James Keenan - A Perfect Circle
Keenan is the lead singer in Tool, Puscifier, and supergroup A Perfect Circle. Inspired by Bill Murray's performance in the comedy film Stripes in 1981, Keenan joined the United States Army. In 1988, his love of animals inspired him to practice interior design for pet stores. After being fired, he began working in set construction.
Most recent A Perfect Circle lineup: 
Maynard James Keenan
Billy Howerdel (Ashes Divide)
Josh Freese (The Vandals, Devo, formerly Nine Inch Nails, Guns N' Roses, etc)
James Iha (Smashing Pumpkins, Tintined Windows)
Matt McJunkins (Puscifier, Ashes Divide, 30 Seconds To Mars)

Jack White - The Dead Weather
White has been a solo artists, as well as a member of The White Stripes, The Raconteurs, and supergroup The Dead Weather. Before his rise to fame, however, he ran a one-man business called Third Man Upholstery. The slogan was, "Your Furniture's Not Dead."
Most recent The Dead Weather lineup: 
Jack White 
Alison Mosshart (The Kills, Discount) 
Dean Fertita (Queens of the Stone Age)
Jack Lawrence (The Raconteurs, The Greenhornes) 

Tom Morello - Audioslave
Morello has been a solo artist in The Nightwatchman, and a member of Rage Against the Machine, Street Sweeper Social Club, and supergroup Audioslave. Before impressing the world with his unique guitar-playing style, Morello enrolled at Harvard University as a political science student—he was the first student at his high school to be accepted at Harvard. After graduation, he moved to Los Angeles where he supported himself, at one point working as an exotic dancer.
"When I graduated from Harvard and moved to Hollywood, I was unemployable. I was literally starving, so I had to work menial labour and, at one point, I even worked as an exotic dancer. 'Brick House' (by The Commodores) was my jam! I did bachlorette parties and I'd go down to my boxer shorts. Would I go further? All I can say is thank God it was in the time before YouTube! You could make decent money doing that job – people do what they have to do."
Then, from 1987 to 1988, Morello worked in the office of California Democratic Senator Alan Cranston.
Most recent Audioslave lineup: 
Tom Morello 
Chris Cornell (Soundgarden, Temple of the Dog)
Tim Commerford (Rage Against the Machine)
Brad Wilk (Rage Against the Machine)

Tony Iommi - Heaven and Hell
Iommi is probably best known as the founding member and guitarist of Black Sabbath, but he was also a member of supergroup Heaven and Hell. Before either of these bands, when he was 17 years old, he worked at a sheet metal factory. In fact, he had an accident on his last day of work when he lost the tips of the middle and ring finger of his right hand.
Most recent Heaven and Hell lineup:
Tony Iommi 
Ronnie James Dio (Black Sabbath, Elf, Rainbow)
Geezer Butler (Black Sabbath)
Vinny Appice (Dio, Black Sabbath)

Keep reading to find out what James Iha, Trent Reznor, and Timbaland were doing before they became well known musicians. You might be surprised; we were.
James Iha - A Perfect Circle / Tinted Windows
You may recognize Iha first and foremost as the co-founder and former guitarist of The Smashing Pumpkins, but did you know that he's also been linked to bands A Perfect Circle and Tinted Windows? Prior to any of this, he majored in graphic design at Loyola University Chicago. He ultimately dropped out to dedicate himself to The Smashing Pumpkins.
Most recent Tinted Windows lineup: 
James Iha
Taylor Hanson (Hanson)
Adam Schlesinger (Fountains of Wayne, Ivy)
Bun E. Carlos (Cheap Trick)
Trent Reznor - How To Destroy Angels
Reznor is a busy guy. When he isn't leading Nine Inch Nails or composing award-winning film scores, he is involved in supergroup How To Destroy Angels. But did you know that in 1983, he enrolled at Allegheny College where he studied computer engineering?
Most recent How To Destroy Angels lineup: 
Trent Reznor
Mariqueen Maandig (West Indian Girl)
Atticus Ross
Timbaland - V.A. Playaz
Timbaland is a well known producer, as well as a rapper and songwriter. He is also a member of supergroup V.A. Playaz. But, when he was 15 years old, he had a part-time job at Red Lobster.
Most recent V.A. Playaz lineup: 
Timbaland
Magoo (Timbaland & Magoo)
Missy Elliott
Malice (Clipse)
Pusha T (Clipse)
Skillz
Fam-Lay
Pharrell (N.E.R.D)