A Perfect Circle at Ottawa Bluesfest Concert Review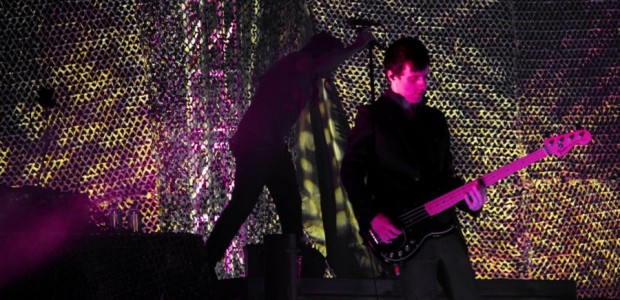 Ottawa's yearly Bluesfest is well underway and, in case you've missed it, 2011's lineup is a doozy. Some of the headliners include Soundgarden, The Black Keys, Blue Rodeo, Jane's Addiction and of course, A Perfect Circle (APC). While the Grammy Award winning Peter Frampton and Huey Louis performed earlier in the day, the big draw for the night was APC.

As the crowd eagerly awaited Maynard James Keenan and the rest of the band to take stage, music from The Sound of Music began playing. A Perfect Circle then came out and wasted no time performing a remixed version of their cover of Crucifix's Annihilation.

They followed up with three APC tracks: Weak and Powerless, The Hollow and the All Main Courses Mix of 3 Libras. The crowed erupted when Maynard, standing comfortably in the shadow of his bandmates, sung his lungs out during Counting Bodies Like Sheep To The Rhythm of The War Drums.

Adverse to attention, Maynard didn't speak to the crowd (except for a brief thank you at the end) and maintained his stance in a barely lit section in the back of the stage; a setting quite familiar to anyone who has seen the frontman perform with Tool.

Following their dark yet powerful rendition of Lennon's Imagine, and then a not as exciting cover of Led Zeppelin's When The Levee Breaks, A Perfect Circle finished the night with Passive, a song written by Trent Reznor for TapeWorm (a defunct project that he and Maynard collaborated on).

During Passive, Maynard exerted a loud and lengthy roar that silenced the entire crowd for a moment before they erupted once more.

Overall, A Perfect Circle delivered a solid, hard hitting performance with songs that were lengthier, reworked and definitely louder than their original recordings. They even graced us with their new track By & Down which already ranks up as one of their best.

A Perfect Circle is still on their brief tour and The Ottawa Bluesfest has plenty of good acts coming up over the next few days. If you're itching to see a concert, we'd recommend you attend either.
A Perfect Circle at Ottawa Bluesfest Pictures
A Perfect Circle Pictures from Ottawa's Bluesfest
A Perfect Circle Setlist
1) Annihilation
2) Weak and Powerless
3) The Hollow
4) 3 Libras
5) Counting Bodies Like Sheep to the Rhythm of the War Drums
6) People Are People
7) Blue
8) By And Down (New song)
9) The Noose
10) Magdalena
11) The Outsider
12) Imagine
13) When the Levee Breaks
14) Passive
There was no encore.