Michael Jackson The Immortal Pictures (Cirque Du Soleil)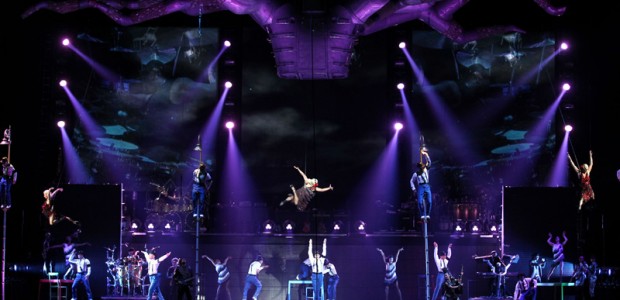 After several long months of preparation, Michael Jackson, The Immortal World Tour, has finally kicked off. The Cirque Du Soleil special began in Montreal last night (with a second show tonight). The tour will hit several key cities in North America which you can see below. Here are some pictures from the Montreal premiere courtesy of Cirque Du Soleil.
View our full Michael Jackson The Immortal Tour photo gallery.
Michael Jackson The Immortal Tour Dates
-Montreal October 2 & 3, 2011
-Ottawa, Opens on October 07, 2011
-Hamilton, October 12, 2011 8:00 PM
-Detroit, October 15, 2011 8:00 PM
-London, Opens on October 18, 2011
-Toronto, Opens on October 21, 2011
-Winnipeg, Opens on October 26, 2011
-Saskatoon, Opens on October 29, 2011
-Edmonton, Opens on November 01, 2011
-Vancouver, Opens on November 04, 2011
-Seattle, Opens on November 09, 2011
-Spokane, Opens on November 12, 2011
-Eugene, Opens on November 15, 2011
-Portland, Opens on November 18, 2011
-Las Vegas, Opens on December 03, 2011
-Phoenix, Opens on December 30, 2011
-Boise, Opens on January 03, 2012
-Denver, Opens on January 06, 2012
-Sacramento, Opens on January 10, 2012
-San Jose, Opens on January 13, 2012
-Oakland, Opens on January 17, 2012
-San Diego, Opens on January 21, 2012
-Anaheim, Opens on January 24, 2012
-Los Angeles, Opens on January 27, 2012
-St. Louis, Opens on February 07, 2012
-Houston, Opens on February 10, 2012
-New Orleans, Opens on February 15, 2012
-Tulsa, Opens on February 18, 2012
-Kansas City, Opens on February 21, 2012
-Indianapolis, Opens on February 24, 2012
-Orlando, Opens on February 28, 2012
-Miami, Opens on March 02, 2012
-Jacksonville, Opens on March 07, 2012
-Raleigh, Opens on March 10, 2012
-Charlotte, Opens on March 13, 2012
-Milwaukee, Opens on March 16, 2012
-Montreal, Opens on March 20, 2012
-Quebec, Opens on March 24, 2012
-Minneapolis (area), Opens on March 27, 2012
-Newark, Opens on March 30, 2012
-New York, Opens on April 03, 2012
-Long Island, Opens on April 07, 2012
-Philadelphia, Opens on April 10, 2012
-Pittsburgh, Opens on April 13, 2012
-State College, Opens on April 24, 2012
-Columbia, Opens on April 27, 2012
-Hartford, Opens on May 02, 2012
-Baltimore, Opens on May 05, 2012
-Worcester, Opens on May 16, 2012
-Dayton, Opens on June 06, 2012
-Columbus, Opens on June 09, 2012
-Nashville, Opens on June 12, 2012
-Austin, Opens on June 15, 2012
-San Antonio, Opens on June 23, 2012
-Atlanta, Friday, June 29, 2012 8:00 PM
-Montreal, Opens on July 06, 2012
-Washington (area), Opens on July 13, 2012
-Cleveland, Opens on July 17, 2012
-Chicago, Opens on July 20, 2012
-Salt Lake City, Coming soon