Montreal Vans Warped Tour 2012 Highlights
Sheila
Misc
3 minute read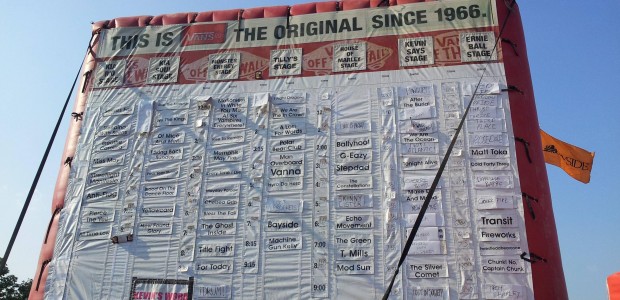 Even with the 32 degree heat (39 with humidity)--102.2F for our friends down south--throngs of fans headed over to Montreal's Parc Jean-Drapeau for Vans Warped Tour. If you attended this year, hopefully you took a look at our list of Warped Tour Essentials before heading out. Maybe next year we'll research a new section with advice for bands on crossing into Canada because unfortunately, some had to turn back at the border, while others had quite the struggle just to get through. Two acts that we were looking forward to seeing that weren't able to make it were The Used and Dead Sara. Thankfully, the bands that did make it were ready to rock.
One of the best, and worst, things about Warped Tour is that schedules are made up the day of the show. It's great because by getting there early so you don't miss your favorite band, you also get the chance to see new bands while killing time. It's the worst because you can't plan out the day until you get there. With the inevitable conflicting set times, it can be difficult choosing which bands to watch for their full set, and which ones you can leave midway through to catch another band.
One of the first bands to hit the stage was Emilys Army, an Oakland, California punk band whose members among the youngest and newest bands on the Warped Tour circuit. But don't let that fool you; their solid set was a testament to their talent. In addition to their musicality, it's clear that they're having a good time onstage, which drew a crowd. They're fun to watch. Remember these guys—this won't be the last you hear of them.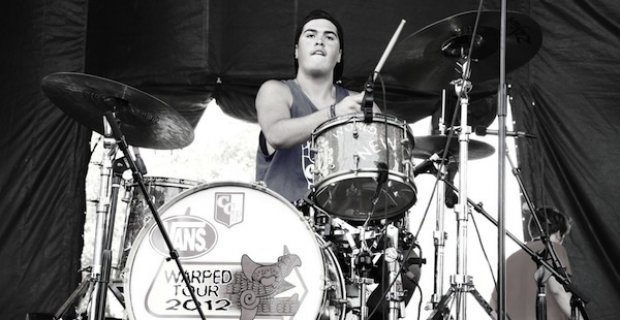 For those old school punk fans, Anti Flag was the band to see playing on the headlining stage later in the day. While some bands may encourage the woman in the crowd to flash them, Anti Flag took a different route; instead, they told the ladies in the crowd that when/if they are asked to "see their boobs," they should instead look that person in the eyes and spit in their faces. The deafening roar that followed that statement was incredible.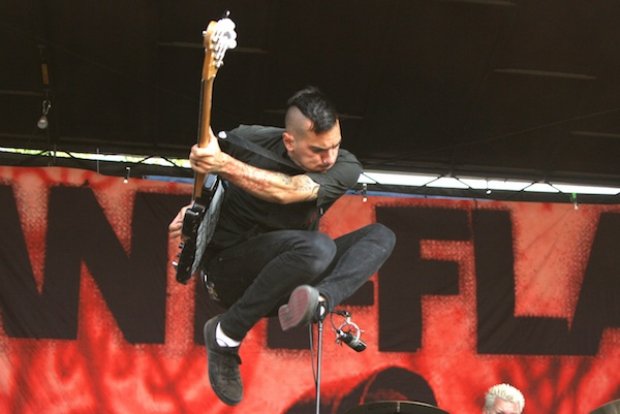 International artists played a big role in Warped Tour roster this year. Tonight Alive from Australia, Brits You Me At Six, and Scottish rockers Twin Atlantic were just a few of the international acts that caught our attention.
This year's Warped Tour also featured a few bands that haven't played the festival in the last few years. Yellowcard and New Found Glory showed the newer bands a thing or two taking over the main stages. Lostprophets frontman Ian Watkins began their set by saying that whether the crowd liked them or not, or whether they're just passing through on the way to the beach, he hoped that they could all just enjoy the moment together. From start to finish, the crowd interaction was non-stop, with Watkins even jumping off the stage and walking around, singing and giving high-fives to passers by. Rooftops was the obvious fan favorite, as they sang the lyrics back at the band, threatening to drown them out. I think Watkins got his wish: it was a great moment we could all share.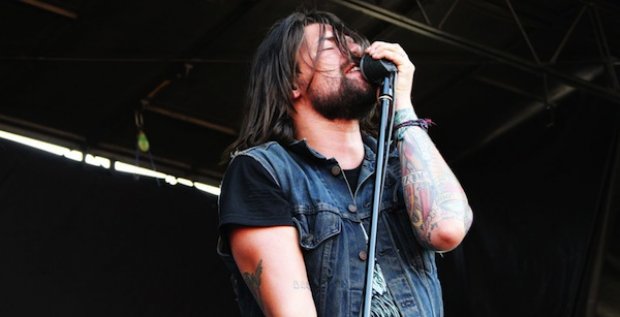 Throughout the day depending on who you were watching, you were either encouraged to crowd surf, start a circle pit, mosh, scream, or dance. That's one of the great things about Warped, there is something for everyone, and if you're feeling adventurous, step out of your comfort zone and explore. You never know, you're new favorite band could be a stage away. Here's to looking forward to what next year will bring.
Be sure to check out UpVenue in the next few days for our interviews with Emilys Army, You Me At Six, and Mayday Parade. Until then, check out our Warped Tour photo galleries below.
Special thanks to MSO.
Warped Tour Photo Galleries
Anti Flag
Bayside
Blessthefall
Emilys Army
Everytime I Die
Lostprophets
Mayday Parade
Pierce The Veil
Taking Back Sunday
Tonight Alive
Yellowcard
You Me At Six