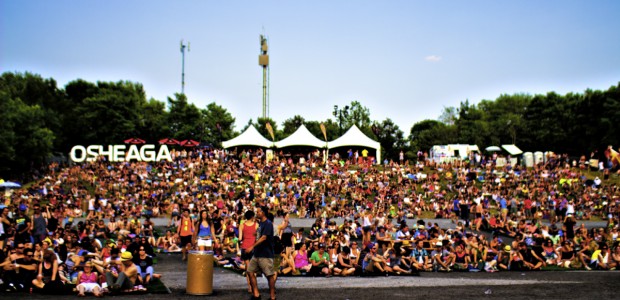 Last year, Osheaga switched to a three day format because let's face it, Thursday is the new Friday anyway, so why not? Turns out that the decision paid off as Friday (and Sunday) sold out. A noticeable change this year was the layout for the five stages. The double main stages remained the same, but there was a new bridge created that lead to two of the other stages including the considerably larger solar powered Green Stage. The festival did benefit from the new larger stage but it also came with a consequence; it took a lot longer to walk from one site to another, especially since the bridge was heavily trafficked.
Day 1 -  And So It Starts (Headliners: Justice)
Between people buying their new August metro passes, Osheaga being sold out, and funnelling all concert goers through one single subway, it's needless to say that it wasn't very easy getting to Osheaga. It was packed, and it was hot, but it was totally worth showing up and seeing Fun playing on the stage. The crowd, which was surprisingly large already in the early afternoon, was happily singing along to We Are Young and Some Nights. We forecast some big things in Fun's future, possibly even being headliners one day. Justice closed off the show and got the crowd's vote of approval. (Hint to all bands out there: license your music to the home hockey team, you'll get a ton of fans).
Other highlights:
Largest unexpected crowd draw 
Of Monsters And Men who thanks mostly to hits like Little Talks had a larger draw than MGMT did during their set later in the night.
Biggest sing along
Surprisingly (though it shouldn't really be) Franz Ferdinand's Take Me Out was a huge hit with the fans.
Most memorable performance
Florence + The Machine. Seriously, she's talented and beautiful, how can you not stare as she danced across the stage in her big blue dress.
Day 2 - Like a Hot Oven (Headliners: Snoop Lion or Snoop Dogg)
The second day was a scorcher. Our day began with an interview with Zack Carothers, from Portugual The Man, who was extremely personable and fun to speak to (check back later this week for the interview).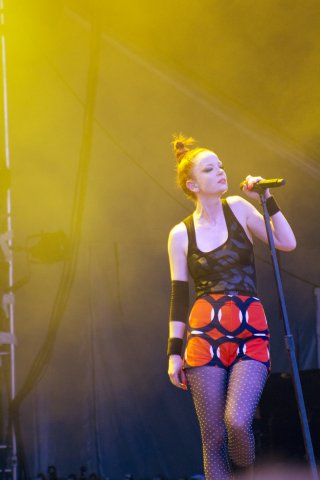 Biggest Identity crisis:
Snoop Dogg (a.k.a Snoop Lion). So Mr Snoop shows up thirty minutes late to his set without any indication as to why he's late and doesn't apologize. He's introduced as Snoop Lion and that's where things begin to get weird. He begins playing his Snoop Dogg classics with his flashy "DOGG" labelled microphone in his hands. During the songs, Snoop refers to himself as Snoop Dogg but then later on, between songs, he toggles between his dog and feline personas. The reggae portions weren't that great and we eventually wondered off to go catch the ending of The Sheepdogs on the other side of the bridge.
Biggest Disappointment
Brand New. We wanted to like them, especially after their last appearance in Montreal but they simply couldn't connect with us; their style was very unbalanced and we wondered why they weren't placed in HeavyMTL next week instead.
Best French Accent
Garbage: Usually when bands come to Montreal, they try to impress the crowd with their french skills which are usually limited to the words "Merci Beaucoups" and "Montreal". Shirley Manson did impress us though with her Scottish-accented French. Someone from the crowd had a letter for her and she asked: "Monsieur securité, mademoiselle a une letter pour moi". (Translates to "Mister security guard, the madam in the crowd has a letter for me")
Day 3 had a very unexpected surprise, read on to see what it was.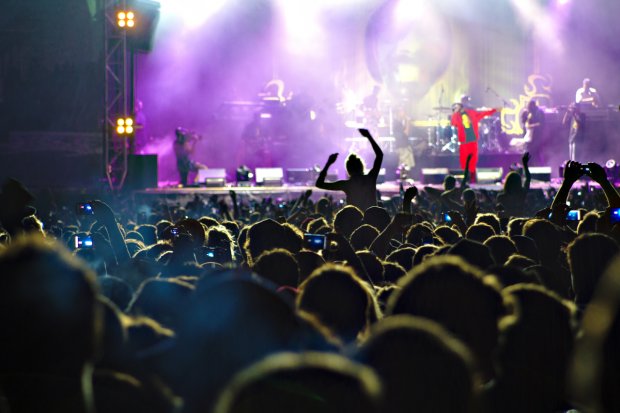 Day 3 - I'm Only Happy When It Rains (Headliners: The Black Keys)
It was only matter of time before it rained and boy did it ever. During The Shins set, the thunderstorm that struck Lollapalooza the day before had finished making its way to Montreal. Luckily for us, the show must go on and the crowd continued to dance in the shower. The rain gradually dissipated before dying out.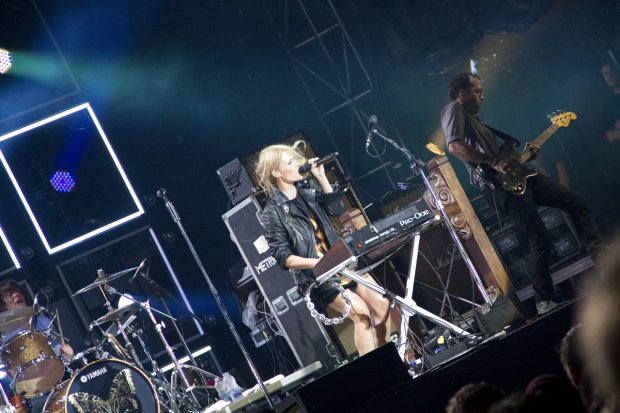 Best Intimate Moment:
Metric. In 2010, Metric closed off their set with an intimate version of Combat Baby. They followed in their own footsteps again this year, except this time, the finished with Gimme Sympathy.
Most dedicated
The Osheaga fans for not leaving even after the torrential downpour.
Biggest Surprise:
In 2010, The Black Keys played an early set at Osheaga. This year, they closed the festival in front of a massive sold out crowd. During their finale, Everlasting Light, a crane unleashed what the organizers referred to as pixel rain.. wait what? Yeah you heard that right. Air France sponsored the shower which you can see below.
Conclusion
What can we say, we were slightly disappointed with last year's event but in its 7th year. Osheaga did a great job of bringing back crowd favorites as well as recruiting new talent that resonated well the crowd. We can't wait to see what's in store next year. In the meanwhile, if you're in Montreal, don't forget, HeavyMTL is taking place next week also at Parc Jean-Drapeau.