Lindi Ortega Talks About Her Album Cigarettes and Truckstops
Sheila
Misc
5 minute read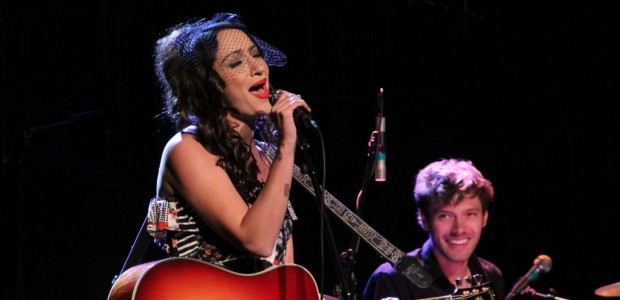 This past Saturday, we had the chance to see Lindi Ortega when she opened up for K.D.Lang. This soft-spoken songstress caught our attention when we had the opportunity to preview her album, Cigarette and Truckstops. Prior to taking the stage, we had the chance to chat with Lindi about the new album, her inspirations, what's next, and a lot more.
Enjoy our interview below, and be sure to check out her album, Cigarettes and Truckstops--out now. She'll also be hitting the road later this month with Social Distortion; all of the tour dates can be found on her official website.
UpVenue: Your new album is set to come out in a few days. How excited are you about that?
Lindi Ortega: Pretty excited. I feel like I've been waiting centuries. I recorded it back in April/May so it's just sort of been there for a while, and I've just been wanting people to hear it, so I'm glad it's finally at the point where we're finally going to release it and people are going to hear all the songs.
UpVenue: For people who aren't in the music biz, we don't know what it's like to be waiting for an album release date after putting in all of that work; can you put it into words what that excitement is like. Is it comparable to anything?
Lindi Ortega: Umm, I dunno. I likened it before in another interview to having this piñata full of awesome. And all of this awesome stuff you know is in the piñata and you can't break it until a certain day.
UpVenue: I'm guessing that picking a favourite track off of an album is like picking a favourite child, but if you had to choose one?
Lindi Ortega: I really like the way Heaven Has No Vacancy turned out just because it was almost amazing. I feel like Colin Linden the producer completely read my mind, in a way. It was how I had envisioned it to turn out and he didn't even know because we didn't really correspond about that sort of stuff, but the stuff that he put onto it, just the guitars, the way the drums are, the production of it was totally what I would have done if I could've been a producer. He just totally realized it in an amazing way.
UpVenue: For people that don't know your story, how did you get involved in music?
Lindi Ortega: I was inspired by my dad. He was a bass player in a Latino band and when I saw him onstage, it kind of prompted me to want to do that as well because it looked very exciting and interesting to me. But it wasn't really until high school when I was 15-16 that I wanted it to be my career. I just started playing high school assemblies and was in my high school musical. And when I was 17, I was playing bars downtown. Perhaps it was illegal and I shouldn't have been doing it, but somehow I managed to find a way to make it happen and I've just been running the circuit ever since.
UpVenue: You've mentioned in other interviews that some of your biggest influences are some of the biggest names in country, but I was wondering if there were any influences from other genres that may surprise us.
Lindi Ortega: Leonard Cohen is an influence of mine. Tom Petty. There's a lot of blues musicians that I really like...Belly...Blind Willie Johnson is another.
UpVenue: You spent some time recording in Nashville, and a lot of artists have started doing that from all sorts of genres; what is it about Nashville that seems to be bringing out the best in musicians these days?
Lindi Ortega: For me, it was just sort of my country music heros had passed through Nashville and had some success there and I had been reading a lot of biographies about them. And I thought for me it was more appropriate for me to go and actually absorb the history by retracing their steps and being there, as opposed to just reading about it. So that was really more why I went to Nashville; to be at the places and experience the things that Hank Williams and Johnny Cash and Patsy Kline did.
UpVenue: Nowadays, social media plays a large role in the career of a musician, and I've seen that you are an avid Twitterer and Facebooker. Earlier today, you mentioned that you were on the hunt for the perfect poutine. Did you find it?
Lindi Ortega: I found a really good one yesterday. It was good. There's different kinds all over the place. I've had ones with different meats in it with different stuff like that, but I've always found that the best ones I've had had come from Montreal, so I always tell people that Montreal is the poutine capitol of the world.
UpVenue: It is!
Lindi Ortega: (Laughs)
UpVenue: If you're not Tweeting/Facebooking/performing, where would we most likely find you?
Lindi Ortega: Well, I'm usually on the road, so I'll usually be in a car, or in a van travelling for hours on end, or on a plane. But when I have time off, I'm kind of a homebody; I stay home and I paint. I like to paint in my free time and watch Game of Thrones. Stuff like that.
UpVenue: Are there any other shows that you're currently addicted to?
Lindi Ortega: Walking Dead for a little while, I liked that one. American Horror Story and True Blood.
UpVenue: This is the last night of the tour with K.D. Lang, and then up next is a tour with Social Distortion.
Lindi Ortega: Yeah, totally different.
UpVenue: Will you change up your set a bit for the different crowd?
Lindi Ortega: I kind of cater to the the audiences that I play for, so definitely it's a different gear in this realm than it is for the Social D realm. I feel like I could get away with some things that I probably couldn't get away with on a tour like this.
UpVenue: Once that tour is over with, what's next?
Lindi Ortega: I think there is a plan to go to Europe and the UK to promote the album a bit over there, and I've got a video coming out, and yeah. Just tour, tour, tour, and more tours.
UpVenue: You mentioned a music video, which song is it for?
Lindi Ortega: The Day You Die. It's coming out in the next month or so.
UpVenue: Can you tell us a little bit about the video?
Lindi Ortega: Yeah, it was shot in New Market, Ontario and it's kind of like an old western town kind of vibe, and there's cowboys, and there's a cat, and actors dressed up in old timey outfits. Good times.
UpVenue: Any final thoughts for your fans?
Lindi Ortega: I hope they like the new record, and don't forget to check me out on Twitter and Facebook. I'm always posting stuff. And, howdy!
Lindi's album Cigarettes and Truckstops is out now. For more info, visit her official website.