Osheaga Hints 2014 Lineup: Arctic Monkeys, Jack White, Lorde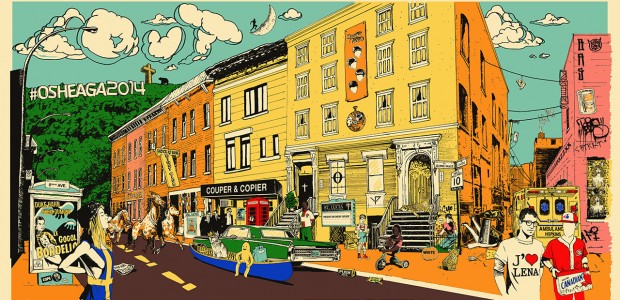 Earlier Today, Osheaga posted a teaser poster for their 2014 lineup. In addition, they will be giving away passes to three lucky people who can guess the most amount of bands by March 10, 2014. While we don't know who will be there for sure quite yet, there are a few easy ones that we spotted right away.
Jack White (Pumpkin with White)
Arctic Monkeys (Monkey on the Fridge)
Bleachers (I Heart Lena, JAck Antonoff is dating Lena Dunham)
Nick Cave & The Bad Seeds (Nick Caverne Est 1957)
Portugal The Man (The Guy in the Portuguese Jersey)
AFI (written on the wall)
Outkast (Out in the clouds)
Cut/Copy (Couper et Coller is Cut Copy in french)
Hey Rosetta (The roses saying Hey)
Half Moon Run (Guy running on the moon)
Skrillex (SKREEEELAAXXZZXX is his twitter handle)
The 1975 (House number)
Modest Mouse (Smiling mouse next to cheese)
Foster The People (Pumped Up Kicks on the clothes line)
Manchester Orchestra (Cope)
The London Grammar (Telephone booth with Grammar on it)
The Beaches (Poster)
Lorde (The crow)
Band of Horses (The horses)
Bookmark this page and keep coming back as we discover more bands.
In the meanwhile, give us a hand by checking out the full size image of the Osheaga 2014 lineup.
**UPDATE**
confirmed Lineup to be part of Osheaga 2014
Outkast, Jack White, Modest Mouse, Arctic Monkeys,  Bleachers, Half Moon Run, Skrillex, AFI, Clockwork, Portugal The Man, Four Tet, Sam Roberts Band, The Beaches, Cut Copy, Foster the People, Band of Horses, CHVRCHES, St Lucia, Royal Canoe, SBTRKT, Wild Cub, Vance Joy, Lykke Li, Lorde, HAIM, Volcano Choir, Pusha t, Hey Rosetta, London Grammar, The 1975, July Talk, Gogol Ordello, Tiga, The Kooks, The Glitch Mob, Old Crow Medecine Show, Odesza, Nick Cave, Jon Hopkins, J. Cole, Duke Dumont, Danny Brown, Cyril Hahn, Chromeo, Bro Safari, Breach, Bas
That isn't everyone, but these bands have been confirmed at 100% through Osheaga.com