Montreal's Heavy Montreal 2014 Festival Review
Sheila
Misc
5 minute read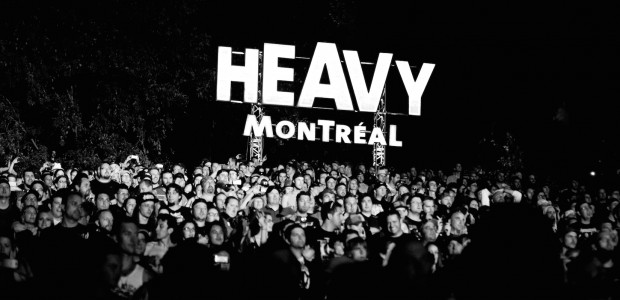 The yearly gathering of Montreal's metal heads took place over the weekend and with three of the "big four" (Metallica, Slayer, and Anthrax) bands taking part, you know that it was one hell of a weekend. There were over 50 bands that took part in HeavyMTL 2014 and here are the ones whose performances stood out the most
Apocalyptica
Head-banging and cello playing doesn't usually go hand in hand — unless of course you're talking about Apocalyptica. Choosing to steer clear of playing any of their Metallica covers (since Metallica were the day 1 headliners), they did play two Sepultura ones - Inquisition Symphony and Refuse/Resist. During their performance of I Don't Care,  Franky Perez (Scars on Broadway) joined them on vocals. It was also announced recently that Franky would be handling all of the vocal duties on Apocalyptica's upcoming album. To close out their set they played their version of In the Hall of the Mountain King .Overall they had a great energy and were one of the highlights of day 1.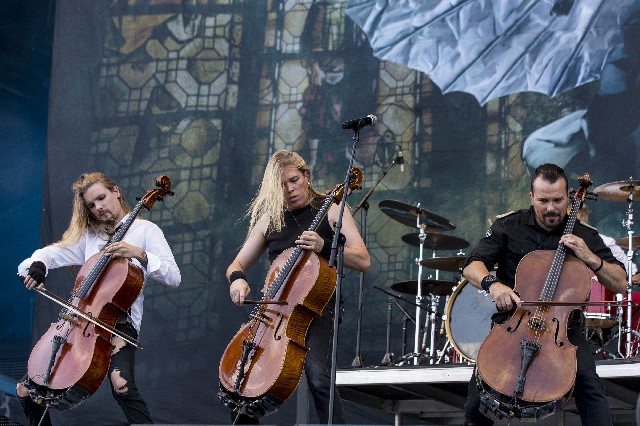 Photo credit: Tim Snow
Unlocking the Truth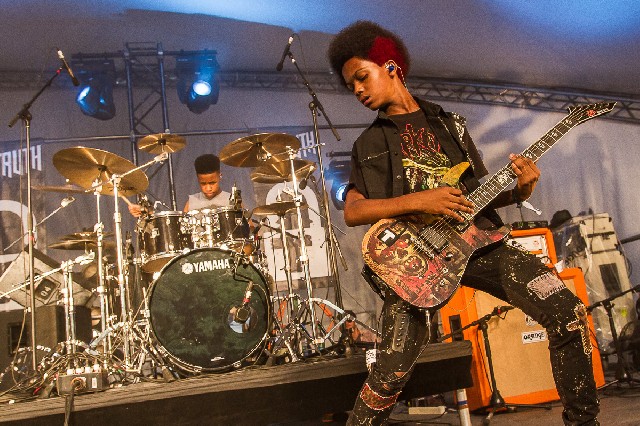 Photo credit: Vanessa Leclair
Dropkick Murphys
Kicking things off with The Boys Are Back, the Boston boys of Dropkick Murphys received an enthusiastic welcome from the Montreal crowd, however midway through their set, the 40,000 strong crowd boo'ed them loudly. Why you ask? Well, it went down like this:
Dropkick Murphys: You look like a good crowd! You look like a tough crowd!
Montreal: WOO!!!
Dropkick Murphys: You don't look like a bunch of crybabies! You'd almost think this was a Boston Bruins crowd!
Montreal: BOOOOOOOO!!!!!
Luckily for them, Montreal didn't hold a grudge and let those comments slide. Dropkick Murphys put on a great a great set including many songs off of their 2013 release, Signed and Sealed in Blood. Before closing out their set with I'm Shipping Up TO Boston, they played a great cover of AC/DC'd T.N.T. This is one Boston crew that Montreal would welcome back anytime.
The Offspring
On the 20th anniversary of the release of their 3rd album Smash, The Offspring announced that they'd be heading out on a summer/fall tour in which they'd play the full album including a few of their other hits. Luckily for us, that also included a stop in Montreal. As mentioned, they played Smash in its entirety along with a few of their other hits including All I Want and The Kids Aren't Alright.
Metallica
Having Metallica play Heavy Montreal was awesome enough, but it gets better — their entire setlist was chosen by the fans. It would be difficult to nail down one highlight, because their entire 2h 20min set was full of them. If you've ever been to one of their shows, you know that they like interacting with fans and getting as close as possible; throughout the night, they made full use of of ever inch of the stage and catwalk. While Lars may have been stuck behind his kit, he made sure to jump up on his stool and engage the crowd whenever the opportunity arose.
Playing some of their biggest hits like The Unforgiven, One, Enter Sandman, Nothing Else Matters, Ride The Lightning, and Blackened, their set was pure bliss. You can't really put into words what it's like being at a Metallica show (especially one with 40,000 other fans). You just had to be there.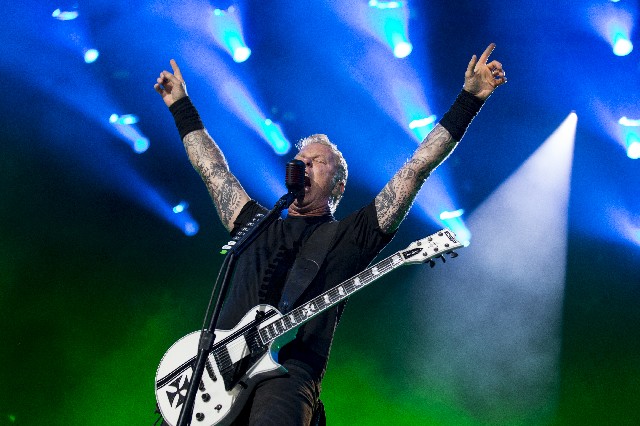 Photo credit: Tim Snow
And with that, 40,000 tired and sweaty metal heads made their way to the metro. While for some, that concluded their time at Heavy Montreal, for many, it was just the start. Continue on to page two for our Sunday highlights.
*header photo courtesy of Susan Moss
Epica
Playing earlier that originally planned, Epica hit the Heavy Stage early in the afternoon. The angelic vocals of Epica's front woman, Simone Simons was quite the contrast to the growls that fans got accustomed to hearing over the weekend. Epica treated fans to tracks mainly from their latest album, The Quantum Enigma which was released back in May. If you were thrown off by the schedule change and missed their set, have no fear, they'll be back in town in October playing alongside Machine Head, COB and Battlecross; for more info, visit our friends at Evenko.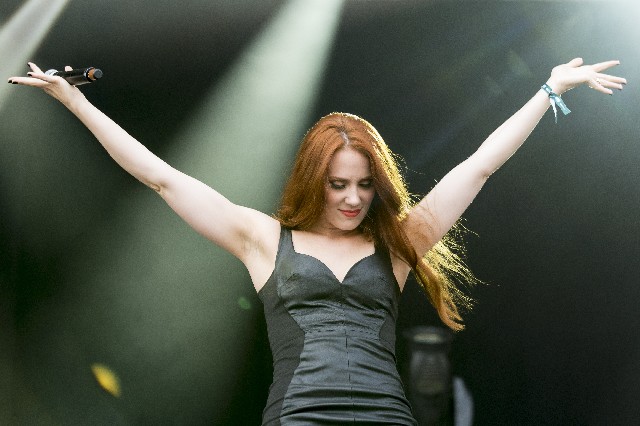 Photo credit: Tim Snow
Bad Religion
With over 16 albums in their repertoire, Bad Religion made sure that they gave fans a taste of their entire back catalogue. Kicking things off with Recipe For Hate, they managed to squeeze in 22 songs into their hour long set including their huge hits 21st Century (Digital Boy) and American Jesus. While there could've been a little more energy on their part, they did prove why Bad Religion is one of the biggest punk bands ever.
Twisted Sister
The biggest highlight of Sunday came when Twisted Sister took to the stage. Celebrating the 30th anniversary of the release of their album Stay Hungry, they played it in its entirety. The sing-a-long during We're No Going To Take It was goose bump worthy and their performance of I Wanna Rock summed up the thoughts of most in the crowd perfectly. 59 year old frontman Dee Snider showed no signs of letting up, and neither did his bandmates — all of which are original members. Closing out their set with S.M.F, they left the crowd wanting more. Hopefully if they make their way back to Heavy Montreal in the future, they'll get a longer set.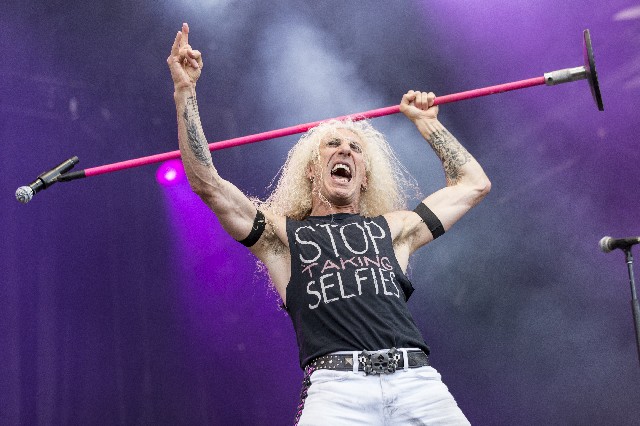 Photo credit: Tim Snow
Lamb of God
Heavy Montreal was Lamb of God's first show since playing South Africa back in January, and they showed no signs of rust. Midway through their set, frontman Randy Blythe did take the time to talk about the fact that the band was supposed to play this festival back in 2012, however they had to cancel because Blythe was spending time in a "gated community". In light of what happened, Blythe made it a point to remind the crowd that if someone falls, pick them up. Playing tracks like Laid To Rest and  Now You've Got Something To Die For they ended their set with Black Label.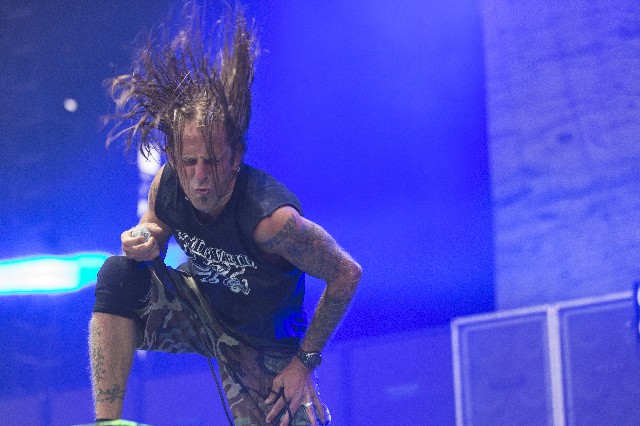 Photo credit: Tim Snow
Slayer
Day two headliners definitely had a challenge ahead of them after all of the great performances throughout the day, but with over 30 years of experience under their belts, Slayer were ready. Hell Awaits got things going, and while the crowd was smaller than the previous night, they were just as enthusiastic. Saving some of their best songs like Raining Blood, South of Heaven and Black Magic, they closed out their set — and Heavy Montreal — with Angel Of Death.
It'll definitely be difficult topping the lineup of 2014, so the promoters have a huge job ahead of them. Thankfully we know that they're up for the challenge especially considering how much this festival has grown since its inception. Heavy Montreal 2015, we can't wait!
*header photo courtesy of Susan Moss