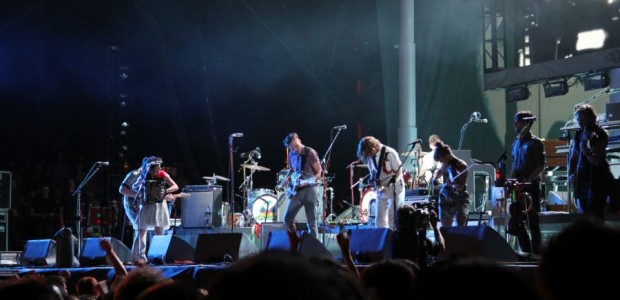 Recently, Win Butler confirmed that the upcoming Montreal show at Parc Jean-Drapeau will be the last of Arcade Fire's costume-themed Reflektor tour. As the band quickly approach the end of their current tour, they've been teasing their fans with sample covers from a variety of bands and even a movie theme song. For the most part, their covers have coincided with a local artist from the city they performed in, but that's not always the case as you'll see below.
10

Arcade Fire - London
Guess which city Arcade Fire performed the song London by the London Band, The Smiths?
9

Arcade Fire - California Ãœber Alles
In Santa Barbara, Arcade Fire covers punk band Dead Kennedys' California Über Alles. Coincidentally, this song was written in 1979 about then mayor Jerry Brown.. who also happens to be their current mayor.
8

Arcade Fire - Axel F (Beverly Hills Cop Theme)
The only movie soundtrack cover came in the form of the theme of Beverly Hills Cops which Win described as "F Axel" a song about Axl Rose. This one was done in Los Angeles.
7

Arcade Fire - Young Lions
Toronto is Canada's largest city but over the past couple of year's, their reputation has been tainted with their infamous mayor, Rob Ford. Arcade Fire poked fun of the mayor while performing Young Lions by Constantines.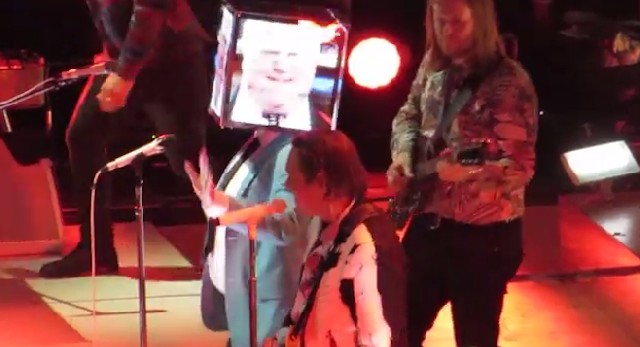 6

Arcade Fire - Motownphilly
Out of all the covers, Motownphilly by Boys II Men must be the least expected. Obviously, this one was done in Philly.
5

Arcade Fire - Uptight (Everything's Alright)
Not even Stevie Wonder is exempted from being covered by the Montreal-based band. Here's the Motown classic, Uptight (Everything's Alright).