Disturbed Montreal Concert Review and Photos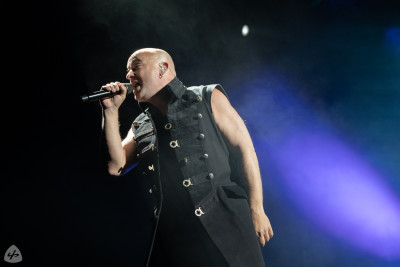 With a giant white curtain hanging in front of the stage at the Bell Centre, the band members of Disturbed took their marks with fists raised. As the curtain dropped, they jumped right into Hey You off of their latest album, Divisive. Next up was one of their many hits, Stupify, followed by 10 Thousand Fists.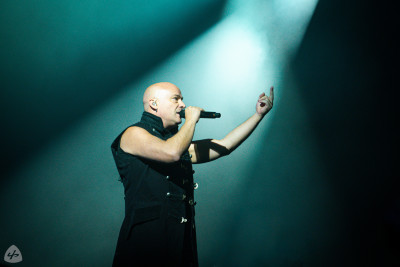 Are You Ready followed , and before playing the next song, frontman David Draiman told the crowd how they've been dying to play the new music live. Up next was one of those new songs, Bad Man. You could feel the energy building during the next song The Vengeful One. There was so much energy, that while the band left the stage for a moment, fans started clearing the floor for a mosh pit. Unfortunately for them, the reason they left was to set up for the acoustic track, A Reason To Fight.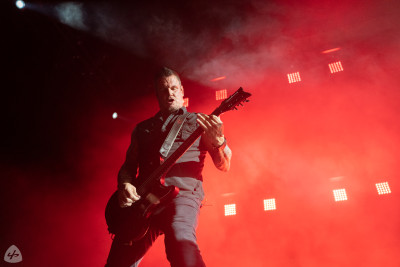 The volume was turned back up for Land of Confusion, and Lie to Me. Next up, a piano, two timpani, a cellist and a violinist joined the band for Sound Of Silence. With fists in the air, another one of their massive hits, Indestructible got the crowd moving again followed by Stricken which included some wicked shredding from guitarist Dan Donegan.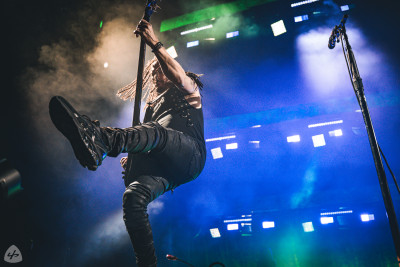 Before playing the next song, David spoke about how the last few years have been difficult for him mentally, he said,
Depression got me hard, as if the pandemic wasn't enough with all the shit that we dealt with during that time, apparently I didn't do enough, I couldn't save my marriage, and I've had to live with that. I've had to live with the loneliness, and I've had to deal with the darkness, creeping in. And there were times when I was sitting at home before this tour started, where I didn't know if I was going to make it out, I didn't know if I could handle it, and thought that the world would be easier, and better off without me. I'm not alone, am I? [cue screams from the crowd] I thank every power that exists in this world for having the opportunity, the courage, and the incredible blessing of still staying alive, and still being able to perform in front of each and every one of you here tonight. We have to be together, we have to be there for each other. We have to give everyone that we know and everyone that we love a continued reason to fight
He also encouraged the crowd to raise their lights during the chorus of the next song, The Light.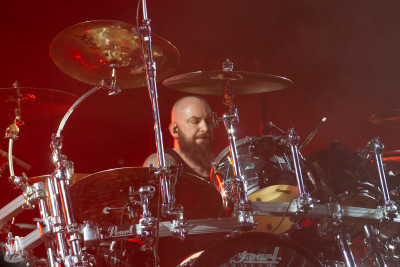 Leaving the stage as bands do before coming back for an encore, they returned to Montreal's famous Ole Ole chant and played their latest single, Unstoppable.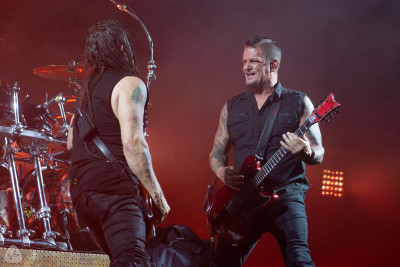 With time running out, you know that it was time for their most recognizable songs, you know, the one that starts with, Ooh wah wah wah wah (typing that out doesn't do it justice, but you know what I mean). It was time for Down With The Sickness!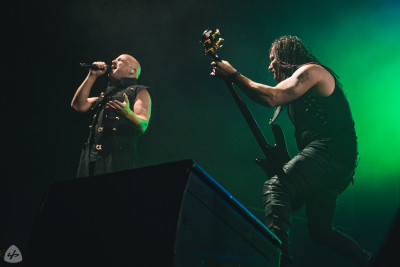 Inside The Fire brought the night to a close. Throughout the night it was fun to see the interaction the band not only had with the crowd, but also with their band mates. As David prowled the stage, he would often stop to sing alongside guitarist Dan Donegan, or bassist John Moyer. Drummer Mike Wengren was kind of left to his own devices hidden behind the kit.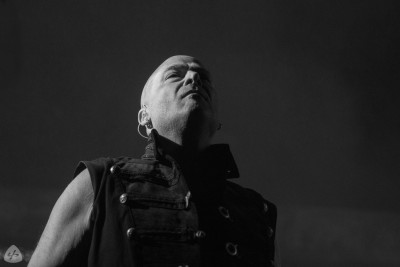 All in all, another great show by the band, and considering this was the first show of the tour, where they were probably working out some kinks. Fans at future shows will NOT be disappointed.
To check out all of their remaining tour dates, check out their official site, and for your Montreal Concert needs, visit our friends at Evenko. Enjoy the rest of our photos below.