Video Interview With Sick Puppies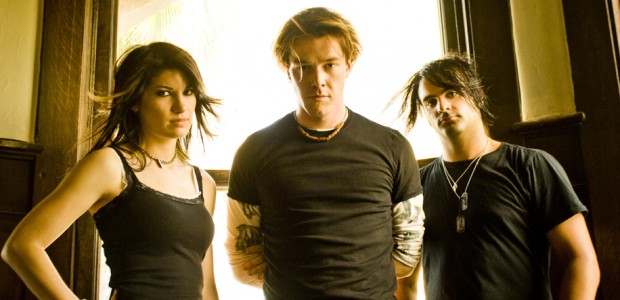 Sick Puppies have been taking the world by storm one fan at a time, and now one country at a time. Their success in the United States has spread, taking them to Australia, Canada, and the United Kingdom (UK) in the past year. Known for their connection with their fans and their electric live show, they continue to turn heads wherever they go. Their most recent single, Maybe, is gaining momentum on Billboard's charts, hitting #15 on Rock Songs, #8 on Alternative Songs, and #4 on Heatseeker Songs, not to mention landing on other charts around the world. And they're just getting warmed up.
I chatted with Shim Moore, Emma Anzai, and Mark Goodwin of Sick Puppies before their fifth consecutive sold out show at Higher Ground in South Burlington, Vermont. We talked about their first trip to the UK, the next single, the time they met Dave Grohl of Foo Fighters, and much more.
I asked them about the concept for Maybe. This time around, they decided to keep it simple. "What always came back was the concept of movement, you know, traveling, moving...that forward momentum. That's what the song is about. The song has a very simple message, a very simple concept that people relate to, so we just wanted to tell that story in the video and incorporate the band."
Bullying, and cyber-bullying in particular, have been in the spotlight recently with the increasing need to protect individuals and encourage others to be vigilant. What you might not know is that Sick Puppies originally formed for that reason; having been bullied in high school, Shim and Emma turned to their mutual love of music as a way to get through it. "Part of the reason people keep coming back is because we try to create a connection, and we do that as much for us as we do for the audience because it's why we do it," Shim explains, "and it got us through when we were having those problems...I think that it was an amazing revelation how life got once we found our connection." They've become involved in Facebook's anti-bullying campaign, as well as working with athinline.org. "We just basically got onto athinline.org and told our side of what happened...it's always been relevant to us...it's kind of where we came from."
To know when Sick Puppies are coming to a venue near you, take a look at their official website, or Sick Puppies World Crew to interact with the band and other fans from around the world.
For the full interview, check out the video below.