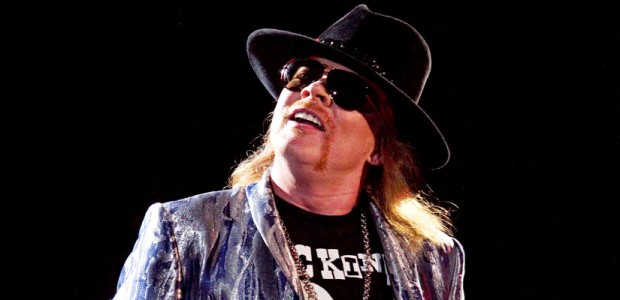 Axl Rose, lead singer of Guns 'N Roses, is notorious for having a bad temper and getting into arguments with other musicians and celebrities. Today we look at the top 10 biggest feuds that the GnR frontman has gotten himself into.
10

Tommy Hilfiger

Axl Rose was set to play a surprise acoustic show at Rosario Dawson's 27th birthday party. The singer claims that he tried to move Tommy Hilfiger's girlfriend's drink when Tommy started to attack him. According to Hilfiger:

Axl pushed me, and I said, 'That was rude.' He had a huge ring on. He wears all this jewelry. I'm thinking, if I get hit, it's over. No teeth, no eye. So I hit him before he hit me. It was self-protection."

Level of Axl Douchebaggery: 4/10
9

Vince Neil and the rest of Mötley Crüe

A feud between Axl and Neil broke out after Neil attacked former Guns 'N Roses rhythm guitarist, Izzy Stradlin. The fight was sparked from an incident the night before when Izzy began making passes at Neil's wife.

Level of Axl Douchebaggery: 3/10.. 7/10 if you include Izzy.
8

Bob Guccione Jr from Spin Magazine

The song Get In The Ring was Axl Rose's response to all the hatred that he was getting from the media. Instead of lashing out at the media without pointing fingers (see Nirvana's Rape Me), Axl actually called out members of the press by name. One line in particular states: "Bob Guccione Jr. at Spin, What, are you pissed off cause your dad gets more p*ssy than you?" (his dad founded Penthouse). Bob actually accepted Axl's challenge to "Get In The Ring" but the singer didn't respond.

Level of Axl Douchebaggery: 5/10
7

Dexter Holland and The Offspring

On April Fool's Day 2003, Dexter Holland from The Offspring fame pulled a prank on the music world by jokingly revealing that his then unnamed album, Splinter, would be known as Chinese Democrazy - You Snooze You Lose. Axl didn't find the joke funny and sent his lawyers after Dexter. Dexter joked that as soon as they referred to the album as Chinese Democrazy, production came to a halt.

Level of Axl Douchebaggery: 6/10
6

Scott Weiland and Velvet Revolver

Scott Weiland, from the Stone Temple Pilots, joined forces with former Guns 'N Roses members, Slash, Duff, and Matt, to form Velvet Revolver. When Axl found out about Velvet, he quickly called Duff "spineless" and claimed that Weiland was a "fraud". Weiland rebutted a few days later in a statement on his website:

"[Axl is] a frightened little man who once thought he was king, but unfortunately, this king without his court is nothing but a memory."

Level of Axl Douchebaggery: 6/10
5

Jon Bon Jovi

According to Axl Rose, in 1986, Jon Bon Jovi called him a "scumbag" at a Hyatt hotel. Jon later tried to attack Axl. That's when their drummer, Steven, hit Jon with his cast. The real version of the story is more likely to be: Axl called Jon a "scumbag" and Steven then hit Jon. Either way, Bon Jovi's album, Slippery When Wet was originally going to be named Guns 'N Roses but the incident caused the name change.

Level of Axl Douchebaggery: 7/10