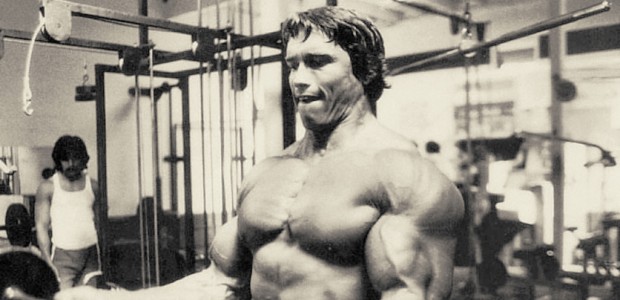 With summer quickly approaching, in the northern hemisphere at least, you're probably looking to shed off a few of those extra winter pounds that you've gained. While exercising can feel like a chore at first, with the right music by your side, you'll get pumped up and give your workout a much needed boost.
10- Marilyn Manson - The Fight Song
The riff, the drum beat, and the chorus will get you into the mood to kick some ass. Unleash that energy towards those weights and you'll lift a little more.
Choice Lyric: "I'm not a slave to a world that doesn't give a shit Fight! Fight! Fight! Fight!"
9- Clint Mansell - Requiem For A Dream
This song works incredibly well when you're doing cardio. It starts off slow but by the end of it, your heart will be pumping and you'll feel like the king of the world. Totally epic.
Choice Lyric: "Tuh na, tuh na-na" (no lyrics)
8- Foo Fighters - Best Of You (Acoustic)
For this one, you'll want to skip the original version and hunt down the acoustic one off the Foo Fighters' Skin and Bones album. Don't let the acoustic part throw you off, Grohl is yelling his lungs out and you'll definitely give it the best, the best, the best...you have.
Choice Lyric: "I was too weak to give in, too strong to lose"
7- Rammstein - Du Hast
There's something about foreign rock music that brings out our inner rage. This classic track from Rammstein is a great booster. Just make sure you listen to the original; the English rendition of Du Hast doesn't do the song justice.
Choice Lyrics: "Du, Du Hast, Du Hast Mich (You, You Hate, You Hate Me)"
6- Black Sabbath - Iron Man
Iron workout? Iron Man by Black Sabbath is the perfect companion. Between Ozzy's vocals and the fast-paced solo, the song has enough range for a variety of different workouts.
Choice Lyric: "He just stares at the world, planning his vengeance, that he will soon unfold"
5- LL Cool J - Mama Said Knock You Out
This classic rap song by LL Cool J works especially well if you're doing Kenpo, Tae Bo or any other exercise that involves rapid punches. If you're using a punching bag, you'll beat it to a pulp in no time.
Choice Lyric: "I'm goin' insane, startin' the hurricane, releasin' pain"
4- Drowning Pool - Bodies
Screaming songs = you'll work out harder. I'm sure some scientist is going to spend years and a lot of money only to come up with the same result. The only drawback to this song is that if you're doing reps, the counting might throw you off.
Choice Lyric: "One...something's got to give, Two...something's got to give...Three...something's got to give...NOWWWWWW!!"
3- Eminem - Lose Yourself
Eminem's debut movie debut in 8 mile also spawned one of the biggest songs in the Detroit rapper's career. Lose yourself in your workout by playing the uncensored version of this great track.
Choice Lyric: "You better lose yourself in the music, the moment, you own it, you better never let it go"
2- Daft Punk - Harder, Better, Faster, Stronger (And Kanye's version)
If you're going to train, you better work harder, better, faster and only then will you become stronger. For a bit of spice, check out Kanye West's version simply titled Faster. It's a great take on the original.
Choice Lyric: "Work it harder, makes us better, do It faster, makes us stronger."
1- Survivor - Eye Of The Tiger
After getting his butt kicked by Clubber Lang (Mr T) in the third Rocky movie, the Italian Stallion is told by Apollo Creed that he's lost the look of hunger in his eye, the eye of the tiger. Rocky then proceeds to train harder than ever; Stallone slimmed down to very impressive 2.8% body fat for the movie. No doubt in our minds that Sly was listening to Survivor's Eye of The Tiger while working out.
Choice Lyric: "Went the distance, now I'm not gonna stop. Just a man and his will to survive."
Honorable Mention: Bill Conti - Gonna Fly Now
While Eye of The Tiger topped our best workout songs list, Gonna Fly Now is the song that was always played in the Rocky series when Balboa was training, especially before his biggest fights. For that, we're placing it here as an honorable mention.
Note: You'll want to finish your workout by running up a flight of stairs, and then jumping in the air with your hands up in victory.
Choice Lyric: "Getting strong now, Won't be long now, Getting strong now."