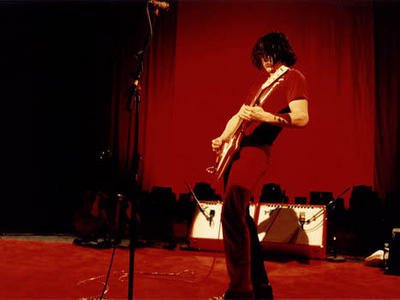 When it comes to Jack White, there's no question that he's one of the busiest men in rock. Before beginning his career as one half of The White Stripes (well more like three fourths), Jack owned a one-man upholstery shop whose moto was "Your Furniture's not dead". Business began to suffer as Jack's unprofessionalism (writing poetry inside the furniture and using crayons to write out bills for starters) began to show. With his first career path (being a priest) not really kicking off and his second as a businessman down the drain; Jack turned to what he does best -- Music.

He began a short run as the drummer for a Detroit band named "Goober & the Peas" (presumably as a pea). You won't find a "Jack White" credited to the band, instead you'll have to check for his birth name "Jack Gillis" but we'll get to that in just a second.

* One second later

In 1996, Jack Gillis married Megan White, and in a rare move, he adopted her last name; thus Jack White was born. That's right, the two are not siblings, they're not twins, they're not cousins or blood relatives or even martians; they were just very secretive lovers. The following year, Jack and Meg formed The White Stripes.

In 2000, the couple divorced; The White Stripes however, became bigger than ever when their first highly successful album "De Stijl" hit stores. They followed up with the highly praised White Blood Cells and Elephant. In late 2007, the duo cancelled all their tours as Meg suffered from acute anxiety problems. They still play together on occasion (The final episode of Late Night with Conan O'Brien being a prime example). A new album is expected to be released next year.
The White Stripes - Seven Nation Army
In 2005, Jack White teamed up with Brendan Benson, Jack Lawrence and Patrick Keeler to form The Raconteurs. Their first song was the very successful (and my personal favorite) "Steady As She Goes". The Raconteurs have two albums under their name: Broken Boy Soldier and Consolers of the Lonely.
The Raconteurs - Steady As She Goes
In 2009, Jack formed a third band, The Dead Weather. Keep in mind now, The White Stripes and The Raconteurs are still very much active. The Dead Weather are considered to be a "supergroup" of sorts as they are comprised of members from The Kills (Alison Mosshart), The Raconteurs (Jack Lawrence) and Queens Of The Stone Age (Dean Fertita).
The Dead Weather - Live on Conan O'Brien
Finally, also in 2009, Jack has gone on record stating that he will begin his first solo project (which we can only assume will be named "The Jack White") later in the year.

There's no denying that Jack White is very good at what he does. His trademark is playing a guitar through a Whammy IV that is set to a lower deeper octave which makes it sound like a bass line. You can see this effect in many of The White Stripe songs and also, in the theme to Quantum Solace.

We expect many good things from Jack White for many years to come.
Official Sites:
The White Stripes: https://www.whitestripes.com/
The Racounteurs (very awesome retro site): https://www.theraconteurs.com/
The Dead Weather: https://www.thedeadweather.com/