What to Wear at a Rock Concert: Women Edition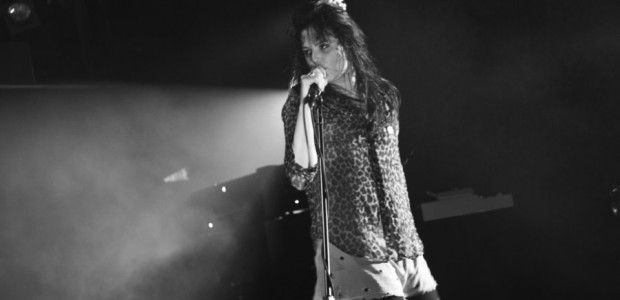 Situation: you've been invited to attend a hard rock concert with a potential client or that hot boy you've been flirting with at the gym. Sure, you are usually more of a theater girl, preferring the ballet over big hair, but what the hey, it might be fun. You practice your best rock on in the bathroom mirror, but something is off. That sweet colorblock maxi dress and gladiators is lacking a certain…um….badassness.
What's a girl to do? You need to be Joan Jettified for the night. Your assignment: be the most badass rocker chick in the entire thunderdome.
First thing to know is that the rockers claimed skinny jeans long before the hipsters, but the way they wore them was a little less ironic and more 'talk dirty to me'. I'm partial to the moto style or something with a few zippers, like these amazing red zipper skinnys by Work Custom Jeans:
The color makes them fantastically wearable post-concert. Pair these hot pants with a v-neck tee like this fitted one from Gap Body (I own three of them in black…great staple for any outfit) in either black or dark gray.
Next comes the fun part: taking the rocker up a notch with SKULLS! I love love love a good skull accessory. I swear they aren't just for goths and headbangers anymore. I completely fell in love with this skull necklace from BaubleBar and this great skull scarf on ReFashioner.
But wait! Skulls aren't the icing on the cake of your transformation into rock groupie goddess. You've gotta add some leather. Nothing says "I can air guitar the hell out of any rock anthem" like leather. Reeeeeoooowr! When it comes to the footwear, repeat after me: you can never have too many studs. Chains are also welcome in abundance. I'm particularly fond of the uber-architecturalness of United Nude footwear. These would make a nice addition to any wardrobe:
They remind me of fetishwear, which is very similar to rockerwear. In fact, corsets also work in a pinch. And, of course, the final touch is the jacket:
A cropped, zippered, moto style is the best…and also looks super cute with a pair of regular jeans (as shown). This style is by Free People and is pretty much the hottest cropped (faux) leather jacket I've seen.
As for your hair and makeup, black liner with pale lip gloss and beachy, flowy hair is essential. If your hair is short, tease and spike it out. Vixen red nails work great on the hands. And remember, walk with a swagger. Imagine yourself as one of those girls in the 80′s hairband videos, wind blowing in her hair, taking everybody's breath away.
This is a super fun look where pretty much all of the pieces can work with your daily wardrobe in bits and pieces. Have loads of fun with it and…rock on!
This article was a guest post by Tara Hunt. Tara is the CEO of Buyosphere, a website where people help people shop. She is also a writer for the Buyble.