Concert Review: Halestorm In Montreal
Sheila
Misc
3 minute read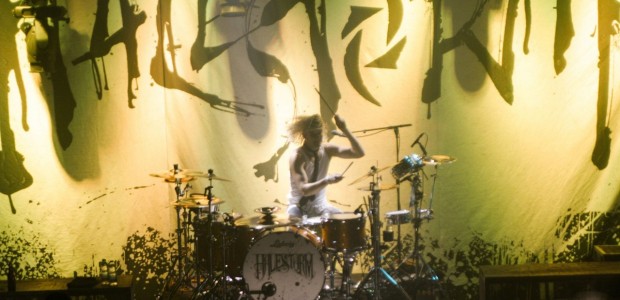 Twenty thirteen has been quite the year for Halestorm --they started off the year with a bang by winning a Grammy Award for their hit single Love Bites (So Do I), they've toured the world, and they released their second covers EP. The great news for fans is that they're showing no signs of slowing down any time soon.
Kicking off the night were Stars in Stereo from California. Playing a short, but sweet set, they managed to catch the attention of the fans that got there early. Next up was a little homegrown talent -- Redlight King from Ontario. Playing a 40 minute set, they played some of their more well know tracks like Comeback and Redemption which was featured on the Iron Man 3 Soundtrack. Overall it was great set, and an ideal lead in to the headliners of the night, Halestorm.
Halestorm
The first to hit the stage was the ever so energetic drummer, Arejay Hale. Dressed in what looked like a nutcracker outfit, he was joined by the rest of his band mates --guitarist Joe Hottinger, bassist Josh Smith, and guitarist/vocalist Lzzy Hale. Getting things started with their Grammy Award winning song, Love Bites (So Do I), there was a little something missing in Lzzy's voice. As we came to find out later on, Lzzy mentioned that she was recovering from a cold, but luckily for us, she powered through their set.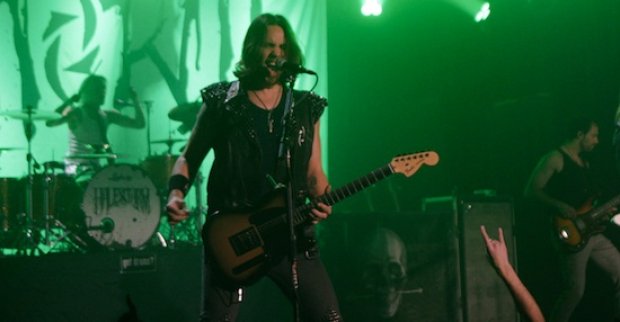 Mz. Hyde, Freak Like Me, and You Call Me A Bitch Like It's A Bad Thing were up next along with one of their older tracks, Don't Know How To Stop. Talking to the ladies in the crowd before playing their next song, Lzzy mentioned that a common question that people ask her is, "what's it like being a lady in a mans world?", she replied with, "it's fucking awesome!". She added that she is living proof that you can do anything you want to, and with that, the first notes of Daughters of Darkness rang out.
Rockshow was up next followed by a cover of Fleetwood Mac's Gold Dust Woman, which is featured on their recent covers EP ReAniMate 2.0. Slowing things down a bit, Joe and Lzzy met at centre stage, and while standing face to face, they played the intro to Familiar Taste Of Poison, and as the song built up, the rest of the band kicked in. This was one of the songs where you could hear some of the remnants of Lzzy's cold, but the crowd at Le National was ready and willing to help by singing along.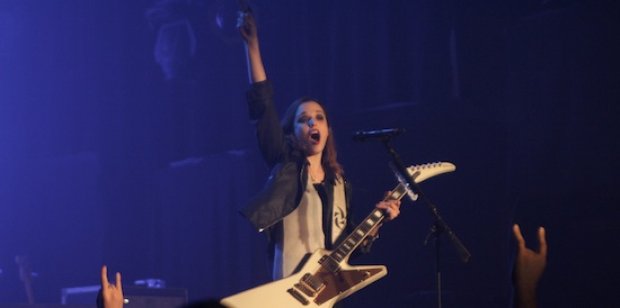 Earlier this year, Halestorm's drummer, Arejay Hale, took home the Golden God Award for best drummer, and during his solo, it was easy to why. He played with his sticks, he played with his hands, he was jumping on his kit, and to top it off, he also used his big sticks --which were about 2 feet long. To close out their set, they played a cover of Dissident Aggressor by Judas Priest, an older track It's Not You, and finally, I Get Off.
Coming back for an encore, they played a cover of Daft Punk's Get Lucky before closing out the evening with I Miss The Misery and Here's To Us. The band has mentioned that they are planning on heading back into the studio to release a followup to their 2012 release, The Strange Case Of…, so hopefully this will mean another stop in Montreal in 2014.
For all of your Montreal concert needs, visit our friends at Evenko, and if you still want more, check out our interview with Arejay and Joe when they were in Montreal for Heavy MTL earlier this year.