Osheaga's 2016 Full Lineup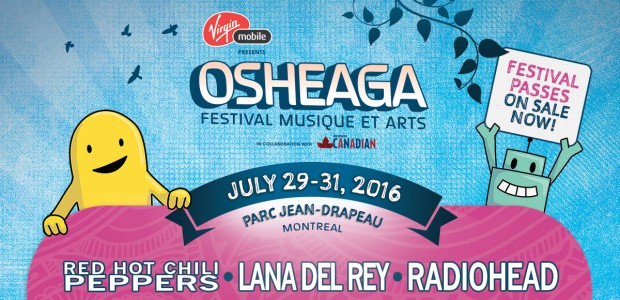 If you're in Montreal and you like love music, then chances are that you've been anxiously awaiting for the Osheaga lineup to be released. A few weeks ago, the festival finally revealed its 2016 artists. That lineup has now been updated making it one of the most solid in Osheaga's history.
This year, Red Hot Chili Peppers, Lana Del Rey and Radiohead are serving as headliners. Radiohead is finally back on tour in 2016 and it's refreshing to see Thom Yorke bringing the band to Montreal; a city that has recently been snubbed by other major bands. Grammy nominees, Death Cab For Cutie were recently added as a supporting group and we're pumped to see them live. Montreal's hot Half Moon Run will once again be performing at Osheaga in 2016 which is great for those who will miss their four sold out shows in the city.
M83, Grimes, Haim, The Strumbellas, Elephant Stone, Passenger, Bloc Party, Elle King, Cypress Hill, Silvers Pickups are just a few more of the excellent bands on the card. If history repeats itself, and we don't see why it wouldn't, tickets are going to sell quickly so we strongly recommend that you buy yours the moment that they go on sale. As usual, we will be bringing you loads of coverage and detailed recommendations for bands to see as well as what your optimal schedule should be like depending on your tastes.
Osheaga 2016 will take place at Parc Jean-Drapeau from July 29th through July 31st with additional events being held around the city in July and August.