The Warning Laval Concert Review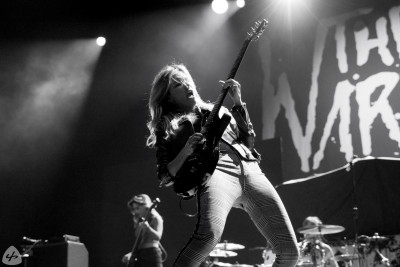 Sadly, we missed out on seeing The Warning when they were in town earlier this year, so when it was announced that they would be joining Three Days Grace on their Explosions Tour, we knew we couldn't miss them again.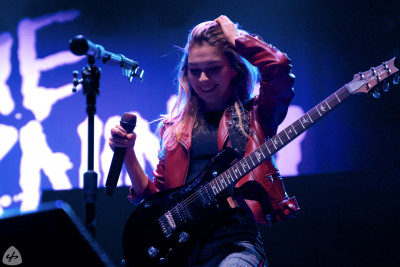 The band, made up of three sisters, Daniela (vocals/ guitar), Paulina (drums), and Alejandra (bass) didn't hold anything back from the start. Each of the sisters shared singing duties throughout their set which was started with Z, Animosity, and Queen of the Murder Scene.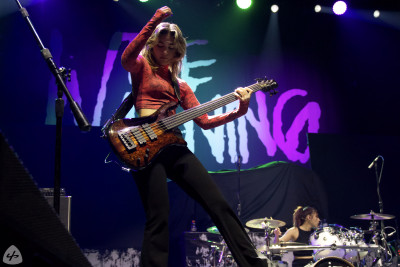 Chatting with fans between songs, Dani mentioned that they were just recovering from getting the flu, and towards the end of their next song Choke, her voice did falter a bit, but luckily Paulina had her back, taking over vocals. Up next were Money, and Dull Knives (Cut Better).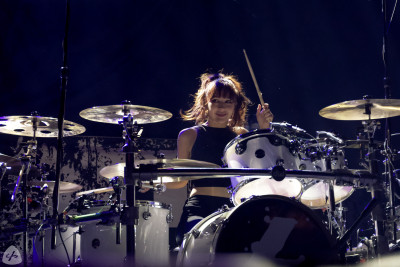 Their cover of the Metallica hit, Enter Sandman followed. It's also the song that sparked the rock worlds interest in the band with their video amassing 24+ million views on Youtube. I'm also pretty sure that Daniela was playing the guitar that Halestorm's front woman, Lzzy Hale gifted her earlier this year.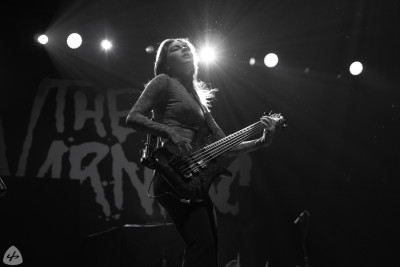 One issue during their set was that at times it was difficult to hear Paulina when she was singing especially during Dust To Dust. Daniela then took the time to introduce the band, and I couldn't help but overhear a few people around me express their surprise that they were all sisters.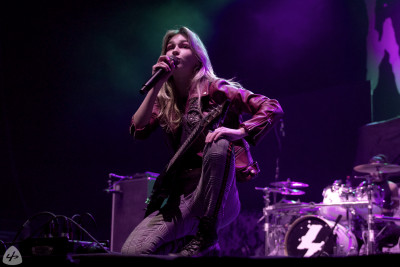 To close out their set, they ended it with Disciple and Evolve, and it was clear by the crowd reaction, that they had made loads of new fans after their performance.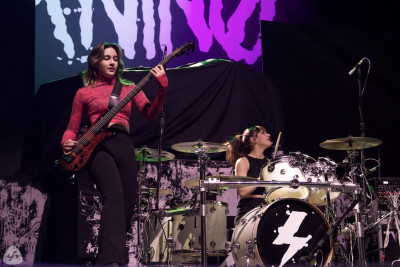 While watching them, I couldn't help but think of how they reminded me of other female rock powerhouses. Daniela was a mix of Lzzy Hale (Halestorm) and Taylor Momson (The Pretty Reckless) combined with the guitar skills of Nita Strauss. Alejandra reminded me so much of Emma Anzai (Sick Puppies) in the way that she made the bass look so, so easy even while playing complex riffs. And Paulina, well, what can I say except for wow! Her smile was infectious, very similar to that of Hayley Cramer (Pop Evil) that we caught earlier this year. Both play with such joy and skill, it's a pleasure to watch. Give it a few years you'll be hearing people comparing newer artists to these ladies.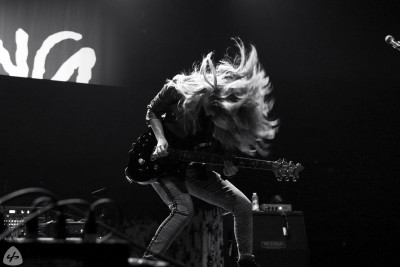 Bands like Foo Fighters, The Killers, Stone Temple Pilots, and more have asked them to open for them, they're just that good. It'll be fun seeing just how far they'll go, at the moment, the possibilities seem endless.
For more info on The Warning, visit their official website. Enjoy the rest of our photos from their set below.