Grammy Winning Presidents and Candidates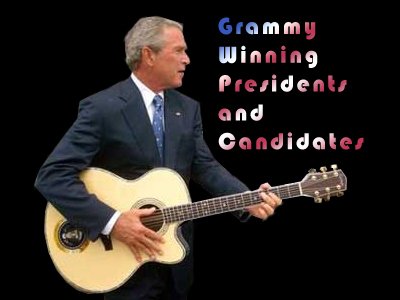 Ever wanted to win a Grammy Award yet you can't play an instrument, can't sing for the life of you, or can't even lip sync through a simple song? Well you're still in luck! The trick lies in winning an award in the Best Spoken Word Album category. What's surprising is that a handful of presidential candidates and actual US presidents have already won the award.
Hillary Clinton
Hillary Clinton's presidential run was cut short when she stepped down against her battle against Barack Obama in 2008. Nevertheless, Hillary Clinton was the first person in this list to win a Grammy award. She won the award in 1997 for her audiobook: It Takes a Village: And Other Lessons Children Teach Us. The book focuses on the children of America and how family members directly influence a child's behavior as they grow older and wiser. She proved that families really do influence their members as you can see in our next winner.
Bill Clinton
In addition to serving as the 42nd president of the United States, Bill Clinton was also the first president to win a Grammy.  He is actually a two time, back to back, Grammy winner. He first won a Grammy in 2004 for his work in narrating the English version of Wolf Track. The book takes a very left wing approach in describing the transformation of a frightening wolf to one that is keen on protecting nature.
Bill Clinton's 2005 Grammy win came from his autobiography My Life which closely follows the ex-president's life from his childhood to his departure from the oval office. The 1000+ page book stirred some controversy as Dick Moris wrote a rebuttal stating that My Life contained factual inaccuracies.
Jimmy Carter
Jimmy Carter who served as the 39th US president won his first Grammy in 2007. His book and subsequent audiobook were entitled Our Endangered Value: America's Moral Crisis. The books focus on moral values and how they affect major daily issues. He uses his personal experiences and Christian views to further expand on his points. Jimmy Carter was also nominated for a Grammy in 2008 for his efforts in Sunday Morning in Plains: Bringing Peace to a Changing World however, he was beaten by our next entry…
Barack Obama
The current US president had to battle both Clintons in 2008, Hillary Clinton in presidential primaries and Bill Clinton for the Grammy awards. Barack Obama emerged victorious on both counts. Even more impressive is that this was his second Grammy. His two Grammies came from his abridged audiobooks: Dreams from My Father in 2006 and for The Audacity of Hope in 2008.

Dreams of My Father was first released in 1995 but republished in 2006 following his Democratic National Conventional speech. It was the audiobook of the re-release that won him the Grammy. The book is a simple narrative memoir of Barack Obama's life.
The second book was Audacity of Hope which was released in book format in 2006. Oprah Winfrey endorsed the book which made it skyrocket in the New York Times' and Amazon's bestsellers lists. Unlike his first book, this one is more of a political biography where he expresses many of his policies. It is believed that the reception of the book influenced him to enter the presidential race.
Special Mention:
Al Gore
Al Gore served as Vice President of the United States for the entire duration of Bill Clinton's presidency. He also ran for president in 2000 but was beaten by George W. Bush. Al Gore didn't actually win a Grammy although he did win an Oscar for An Inconvenient Truth. An Inconvenient Truth is a nominee in this year's Grammy awards for, you guessed it, Best Spoken Word Album. Check back on February 8th to see if Gore's work wins a Grammy.