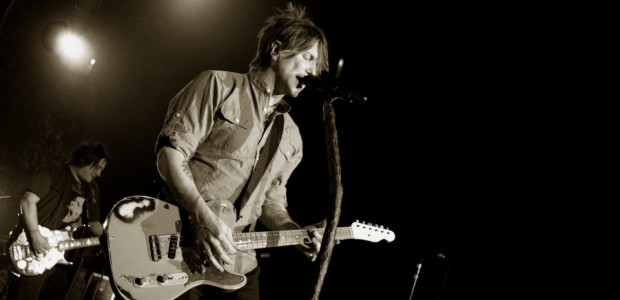 This past Wednesday, Goo Goo Dolls performed at the Olympia Theater in Montreal. Prior to the show, we were invited to their hotel for a quick chat with the trio. We covered a broad range of topics, including their political views, the possibility of being featured on Glee, their performance in Soho New York, the best bagels in town, Little Mosque on the Prairie, and more -- I wasn't kidding when I said broad.
During our interview, John Rzeznik revealed that he's currently writing a new album and hoping to have a quicker turnaround next time around:

"I've actually been experimenting, in this last week, while we've been out on this tour, just writing lyrics and then figuring out the melodic structures," says Rzeznik. "We can't wait another four years to put another album out; that's just a ridiculous waste of time."
On advice for bands who are starting out:
"If you want to be famous, you just have to be pretty enough, that's fine, they'll work the rest of the details out. Can't sing? Can't dance? No problem, there are people who can work that out. If you really want to be an artist and really want to find your voice, just be honest with yourself about what you're saying."
The motivation behind Something for the Rest of Us:
"In America, we've been living in a country that's been involved in two wars for the past eight years, and it's bankrupting our country. We've basically had our economy hijacked from the highest levels of the government right on down. We're one of the causes of the global financial crisis that we've all had to deal with. We've been living under high alert and scrutiny, and this constant 24-hour news cycle of fear, fear, fear, fear -- I wanted to look at those issues and what they do to people; you lose your job, you lose your home, you lose your family, you lose someone to a war that's completely unnecessary, that was supposed to be over by now. Then you look to the new leader, who's supposed to have the answers, who claimed to have the answers, who made a lot of promises, and then he just turns out to be a slightly left-centered corporatist."
Check out the video below for the complete interview. For pictures of the Goo Goo Dolls at Olympia, visit our photo gallery.