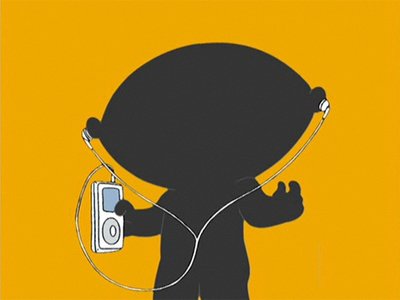 If there's one thing that Apple is really good at, besides hardware and software, it's getting annoying catchy songs stuck in our heads via their commercials. Steve Jobs, the CEO of Apple, handpicks the songs that are used in Apple commercials. Since these ads are notorious for putting bands on the map (or charts), we've decided to focus our top 10 list solely on bands that were not big when the commercials first aired. That means no U2 , Daft Punk, Mary J Blige, Eminem, Black Eyed Peas etc.
10

Cut Chemistry – The Audience is Listening Theme Song

We begin the list with Cut Chemistry (a.k.a Lucas MacFadden), who has been in the music scene since the mid nineties. He's known for his collaborations with artists DJ Shadow and the band Jurassic 5. His song, The Audience Is Listening Theme Song was featured in the second generation iPod nano commercials.
9

Chairlift – Bruises

This song is about a chick who's trying to do handstands for friend but keeps falling down and gets bruises. Fear not, her friend uses his frozen strawberries to ease the pain on her knees. Yeah -- that's the entire song. We won't deny that we found Chairlift's Bruises to be obnoxiously catchy when we first heard it during the iPod nano(chromatic) commercials.
8

The Ting Tings – Shut Up and Let Me Go

The Ting Tings are an English duo band who began to garner attention from radio play and a fairly decent showing at 2007's Glastonbury festival. Shut Up and Let Me Go has a catchy chorus but suffers from repetition which makes it an ideal choice for a short iPod commercial.
7

Steriogram – Walkie Talkie Man

Walkie Talkie Man is a fast-talking song with very catchy rift and drum beat by Steriogram. The song became an enormous hit after appearing in an iPod commercial in 2004. Since then, the song has appeared in numerous soundtracks (including videogames). It also sports a good music video.
6

Cansei de Ser Sexy – Music is My Hot, Hot Sex

Music Is My Hot, Hot Sex is a song from the Brazilian band Cansei de Ser Sexy. This song was actually featured in a Microsoft Zune commercial prior to being featured in a more successful iPod Touch commercial.
5

The Caesars – Jerk It Out

Jerk It Out has been a great success for the garage rock band The Caesars. The song has been licensed in movie trailers, reality shows, videogame and movie soundtracks, TV series and of course, in commercials such as the iPod shuffle one.