What's That Song In The Captain Morgan Commercials?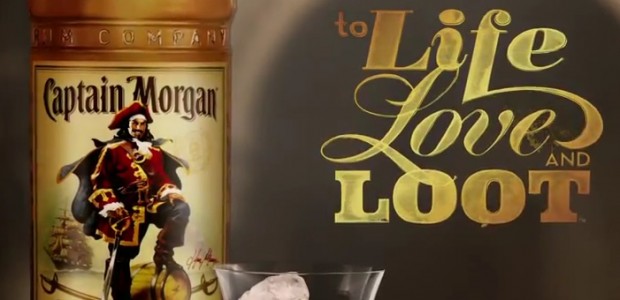 As far as I'm concerned, the ad agency who has been working for Captain Morgan rum has been killing it with its choice of commercial songs. The two most recent ones, feature a fictional character known as Captain Morgan. Actually, the Captain Morgan character is loosely based off of an English privateer who raided Spanish ships in the 15th century. But you aren't here to read about that.
The first commercial is titled Ride Home. It features Captain Morgan and a group of people on lifeboats, having a grand time (because Captain Morgan makes for a good time, get it?), the lifeboats are being pulled by one man rowing his own boat. This man is the equivalent of a designated driver.
The song used in this ad is called The Passenger by Iggy Pop. This song was originally on his album Lust For Life. Iggy pop wrote the lyrics for this song on a train called the Berlin S-Bahn. Another interesting thing about this song is that the background vocals were sung by David Bowie. The history of Iggy Pop and David Bowie go way back. Long story short, David Bowie helped revive Iggy Pop's career after Iggy Pop & The Stooges broke up.
The next Captain Morgan commercial is officially called the Glass ad. It's again set in the 15th century in Spain, and features Captain Morgan at a dinner of aristocrats. The table setup is oddly similar to the painting of The Last Supper by da Vinci. Basically, the good captain causes a good time (again Captain Morgan always makes for a good time, get it?) by knocking his glass off of the table and encouraging others to do the same.
The song from this commercial is called Ball & Biscuit by The White Stripes, from their album: Elephant. This song is 7 minutes 17 seconds long, making it by far the longest White Stripes song to date (or ever since they broke up). This song is mainly a blues jam, with three long guitar solos. It is said that this song was written in the studio during the recording of Elephant, and the guitar solos were improvised on the spot. If you like this song, make sure to read Top 10 White Stripes songs for more like it.
Matt Hancock also writes for a website about songs in commercials called Find That Song.