Soundgarden to Release First Live Album Ever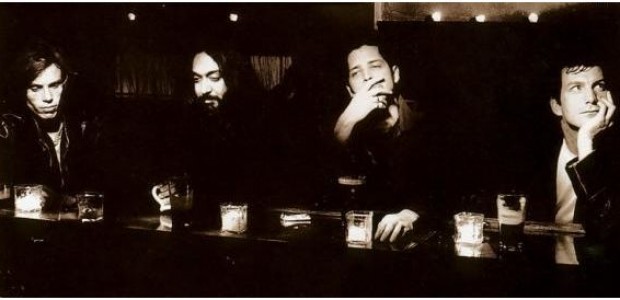 Yesterday, Soundgarden announced that they will release their first live album - ever - on March 22; it's surprising that it took 27 years for them to make this move, but absence does make the heart grow fonder, and I have to admit, I'm looking forward to this one. The album's material will come from the west coast leg of their 1996 tour. The title? Live on I5.
Soundgarden was one of the critical bands involved in the creation of grunge; however, they disbanded in 1997. In 2010, they announced their reunion. In a recent interview, guitarist Kim Thayil revealed that the band wants to do "B-side albums and that might be two or three albums." He also mentioned the possibility of new material, saying, "...I'm not confirming anything, but it's impossible for us to get in a room and not come up with ideas. It's very likely in the future, perhaps sooner than later, we'll get together and de-emphasise the rehearsing part and emphasise the jamming part." If that's not good news, I don't know what is.
Here is the full tracklisting for Live on I5:
1. Spoonman
2. Searching With My Good Eye Closed
3. Let Me Drown
(Tracks 1-3 were recorded live at Crosby Hall, Del Mar Fairgrounds, Del Mar, CA – November 30, 1996)
4. Head Down (Recorded live at Mercer Arena, Seattle, WA – December 18, 1996)
5. Outshined (Recorded live at Crosby Hall, Del Mar Fairgrounds, Del Mar, CA – November 30, 1996)
6. Rusty Cage (Recorded live at Pacific National Exhibition Forum, Vancouver, BC, Canada – December 7, 1996)
7. Burden In My Hand (Recorded live at Salem Armory, Salem, OR – December 8, 1996)
8. Helter Skelter
9. Boot Camp
(Tracks 8-9 were recorded live at Crosby Hall, Del Mar Fairgrounds, Del Mar, CA – November 30, 1996)
10. Nothing To Say
(Recorded live at Mercer Arena, Seattle, WA – December 18, 1996)
11. Slaves And Bulldozers
12. Dusty
13. Fell On Black Days
(Tracks 11-13 were recorded live at Henry J. Kaiser Convention Center, Oakland, CA – December 5, 1996)
14. Search And Destroy (Recorded live at Mercer Arena, Seattle, WA – December 18, 1996)
15. Ty Cobb (Recorded live at Crosby Hall, Del Mar Fairgrounds, Del Mar, CA – November 30, 1996)
16. Black Hole Sun (Recorded live at Mercer Arena, Seattle, WA – December 17, 1996)
17. Jesus Christ Pose (Recorded live at Henry J. Kaiser Convention Center, Oakland, CA – December 5, 1996)