Arcade Fire To Match Fan Donations For Haiti Charity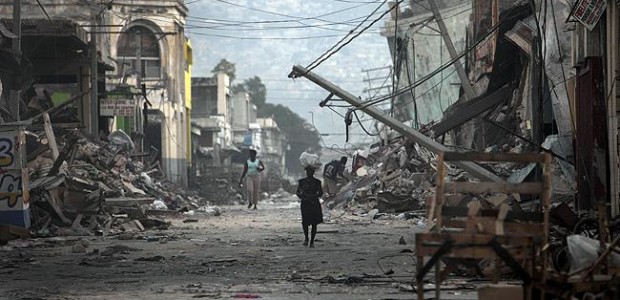 When a natural disaster hits, social networks get swamped with tweets and status updates showing support for those who are in need. Money is raised, efforts are made but all is forgotten within a week. Arcade Fire's Régine Chassagne, a native of Haiti, has made large strides to help rebuild the country after several earthquakes (including a 7.0 quake in 2010) destroyed thousands of homes in Haiti.
In a move similar to that of last year, the band has announced that they will match up to $300,000 in fan donations to the non-profit charity Kanpe, which Régine has a seat of in the Board of Directors. On the official Arcade Fire website, Win Butler writes:
Hi Guys,
This is Win from Arcade Fire. If you are having a hard time deciding what to get your friends and family for gifts this year, give them our money! For any donation you make to Kanpe this holiday season, the band will match it. We will also send a nifty little post card, signed by Regine and I, to put under the tree, or wherever you put your gifts (it's not our business). For any silicone valley jerks who might try to bankrupt us, lets put the upper limit at 300,000$… Have a great Holidays
Luv, Win
A post card signed by both Régine and Win, AND more importantly a donation to Haiti.. what are you waiting for? Make your pledge here.