An Arcade Fire in The Suburbs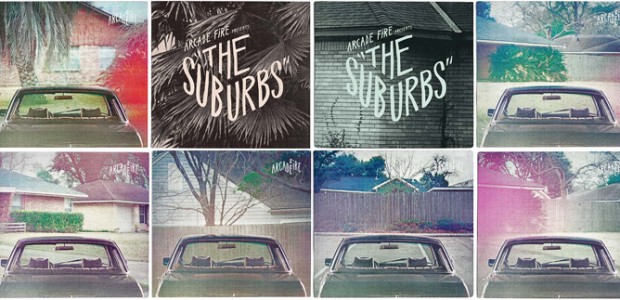 We were lucky enough to get a live glimpse of Arcade Fire's latest installment, The Suburbs, this past weekend at Osheaga. While the band teased the crowd with only a small sample of things to come, we knew great things would surface from the new record. The album has been two years in the making with recording shifting between New York and Montreal. The anticipation has been long and painful but that is all behind us now as The Suburbs has finally found its way to stores.
The Good
The Suburbs is a very strong offering from Arcade Fire. Even with three songs being labeled as sequels, every track is varied and holds its own. You won't be listening to the same samples reworked with different lyrics during the sixty four minute album. There is an overall happier and more hopeful vibe throughout The Suburbs, especially when compared to 2004's Funeral. Reaching maturity is the recurring theme found in the lyrics and the music reflects it as well. The band has changed things up quite a bit, enough so to make you occasionally forget that you're even listening to Arcade Fire until, once in a while, a track like We Used To Wait kicks in.

Ready to Start, Modern Man, We Used to Wait are the reasons why you probably already love Arcade Fire and are interested in the new album in the first place.
The Bad
This is a tough one as there is actually very little wrong with the album. Some people might not like the fact that each song was pressed on to a lacquer (vinyl press) and then converted back digitally to CD. In Layman's terms; you're getting an album that sounds exactly like a vinyl recording with some slight compression. What does this mean to the rest of the world? Not much as you won't notice a difference and many actually prefer the more natural sound that vinyl produces.
Wasted Hours is the only filler track but it's done with in a minute and a half.
Choice Lyric
"I want a daughter while I'm still young. Want to hold her hand, show her some beauty before this damage is done" - The Suburbs
Verdict
Is The Suburbs the best Arcade Fire album? Quite possibly. Arcade Fire was not scared to move away from their previous records and try something new and refreshing. In doing so, they have created what will probably be the standard that their future albums will be measured up against.

Should you buy the album? Definitely, The Suburbs is easily one of the best albums of the year. You should really be asking yourself "Which of the eight album covers should I get?".
Arcade Fire - The Suburbs