Arcade Fire Concert Review - Pop Montreal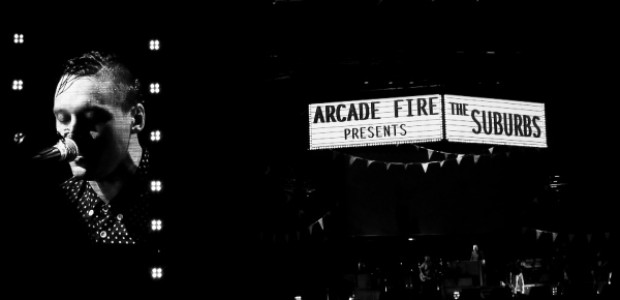 Prior to the release of the Grammy/Juno/Polaris/Brit award-winning album The Suburbs, Arcade Fire played a free show in Longueuil; a Montreal suburb. The event was held in the parking lot of a mall and had a good attendance. On September 22nd, the band returned to Montreal for another free show. This time, the band performed at the newly created outdoor venue Quartier des Spectacles in downtown Montreal. Who the fuck is Arcade Fire? The 101,000+ Montrealers who attended knew on Thursday.
The night began with a mock trailer for a movie. A sample of The Suburbs (continued) played as the band came out to a well deserved ovation. Fans were pushing and shoving to get closer to the stage but everyone stopped instantly when Arcade Fire began playing; the crowd started to dance and cheer. After the opener, Ready To Start, Arcade Fire ironically played Keep The Cars Running; Thursday was "no cars day" in Montreal. They followed up with the more appropriate No Cars Go as frontman Win Butler made a reference to the day.
During the first part of the encore, Win began to demolish the drum that he was holding. He then addressed the audience once more:
Thanks for coming to our free show, all we ask in return is to not ask for a photograph when you see us in the streets, just say "hey we saw you at the free show".
They ended the night with Sprawl II (Mountains Beyond Mountains).
Win Butler, looked considerably shocked at how many people showed up to see Arcade Fire. From their debut album launch at a Salvation Army, to the parking lot of a mall in a suburb, to a show that bested both U2 and Eminem's massive Montreal shows earlier in the year; Arcade Fire has won over the hearts of hundred of thousands of fans.
Image credit: Susan Moss