Billie Joe Armstrong's Son In Punk Band Emily's Army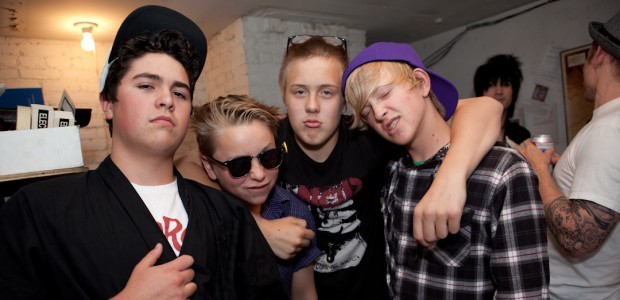 Billie Joe Armstrong is well known as the frontman for Green Day, but what you might not know is that the apple didn't fall far from the tree. Joey Armstrong, Billie Joe's firstborn, is carving his own path in the music scene. The genre? Punk. The band? Emily's Army.
The band consists of Joey Armstrong (drums), brothers Cole (vocals/guitar) and Max Becker (bass), and Travis Neumann (lead guitar). The name Emilys Army is one that honors the Beckers' 15-year-old cousin Emily, who was diagnosed with Cystic Fibrosis in 1998.
It wasn't that long ago that in interviews, Billie Joe remained tight lipped about his son's music, which presumably helped him to find his own groove. He has since becomed involved; Don't Be a Dick, the debut LP from Emily's Army was produced by Billie Joe, and will be released on his label--Adeline Records--on July 14. The album was recorded in four days at Jingletown Recordings in Oakland. The band will perform select shows on the West Coast this summer. Additional information can be found on their Tumblr page.
Frontman and songwriter Cole Becker has talked about the meaning of their song, Broadcast This with SPIN. "'Broadcast This' is an anthem of my position against what radio has become...I was bored out of my mind one day and couldn't find anything that was worth listening to, so I wrote the lyrics to 'Broadcast This' as sort of a middle finger."
When asked about the album, Billie Joe commented:
"The record has a lot of youthful punk rock attitude. They're raw...It's well played, has great hooks and is catchy as hell."
Don't forget to check out our recent video interview and outtakes with the band! Continue on the next page for the full tracklisting of Don't Be a Dick, and to listen to Broadcast This.
Don't Be a Dick tracklist:
1. Broadcast This
2. Strictly For The Birds
3. Asslete
4. Rom Drom
5. Little Face
6. Ho-lloween
7. West Coast
8. Statutory Brainrape
9. Burn Apollo
10. The Gutter
11. Regan Macneil
12. I Wanna Be Remembered
13. Bad Cop
14. Loch Lomond
Give Broadcast This a listen, and tell us what you think.